Video: Dolphin That Survived Shark Attack Released In Atlantic Ocean
A dolphin that survived a near-fatal shark attack returned to the ocean last week after four months of rehabilitation.
SeaWorld Orlando staff, along with Florida wildlife officials and Georgia Aquarium Conservation Field Station members, released "Sharkie," an Atlantic bottlenose dolphin, back into open water near St. Augustine, Florida. She'd been found just miles away at Ponte Vedra Beach in February, when she suffered severe shark bites to her body and right flipper, SeaWorld officials said.
Hours after her rescue by the Florida Fish and Wildlife Commission, Sharkie was transported to SeaWorld in Orlando, where she remained for four months. Once she passed a hearing test in April, which proved her echolocation abilities had returned to full function, she was set for release. Veterinarians tagged her with a satellite tracking device to monitor her recovery in the wild.
For her release, Sharkie was loaded into a submerged dolphin transport box in a rescue truck. With Florida Fish and Wildlife Commission and Georgia Aquarium rescue teams, staff loaded her onto a 22-foot whaling boat and released her into the Atlantic Ocean about two miles from shore, SeaWorld rescue operations manager Jon Peterson told Newsweek.
The facility rescues bottlenose dolphins "here and there," he said, but most cetaceans, which also include whales and porpoises, don't survive the initial transport.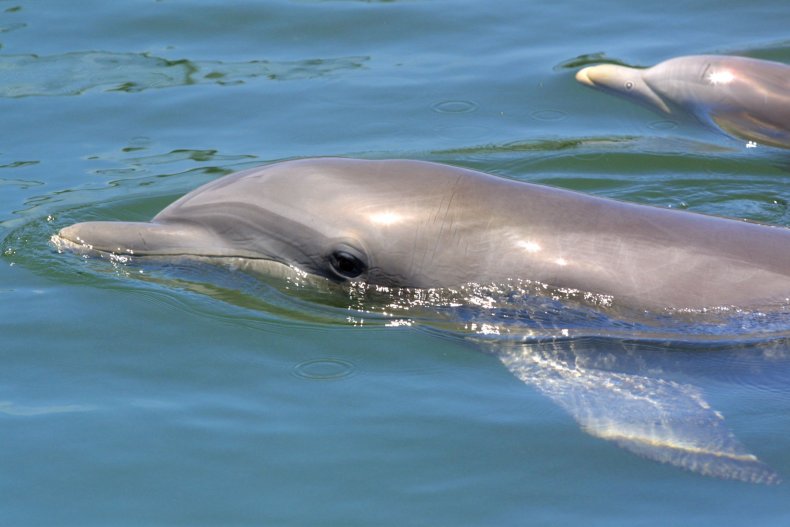 Sharkie's veterinarian team suspects she was emaciated for days, possibly weeks, and she became too weak to fend off the shark attack that left her beached for hours before rescuers found her. The dolphin was near-death and received 24-hour care for pneumonia and malnourishment until she fully recovered.
"I gave her about a 20 percent chance of survival," Peterson said. "Then she showed us she could get better and better."
Though the primary predators of the bottlenose dolphin are humans, who hunt them for meat and oil or catch them in commercial fishing ventures, shark attacks on the species aren't uncommon. A 2006 study found almost 75 percent of bottlenose dolphins surveyed were scarred by shark bites.