Video: Donald Trump Tries, and Tries, to Get Mexico's President on Speakerphone for NAFTA Trade Call
President Donald Trump had a rather embarrassing moment while trying to announce an "understanding" with Mexico that would likely set the foundation for a renegotiation of the North American Free Trade Agreement (NAFTA). Hitting a problem most office workers have encountered, although, not likely in front of television cameras, Trump had difficulty getting Mexican President Enrique Peña Nieto on speaker phone to talk about the deal.
"Uh, the president is on the phone. Enrique?" Trump said Monday, seated in the Oval Office.
Amid nonstop camera flashes, Trump rolled his eyes.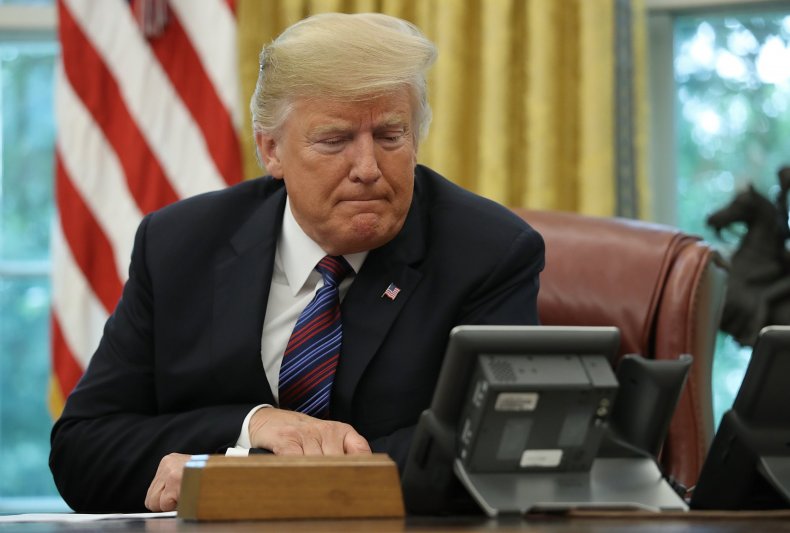 "Now you can hook him up?" Trump said. "Tell me when. Are we in?"
Appearing to grow frustrated, Trump made a gesture with both hands. "It's a big thing," he said. "A lot of people waiting."
Trump appeared to touch a button on the speakerphone, then repeated, "Hello?"
"Uh, do you want to, uh, put that on this phone, please? Hello?" he said, and looked around.
Finally, a White House staff member came to the rescue, walking over to the phone and pressing some more buttons.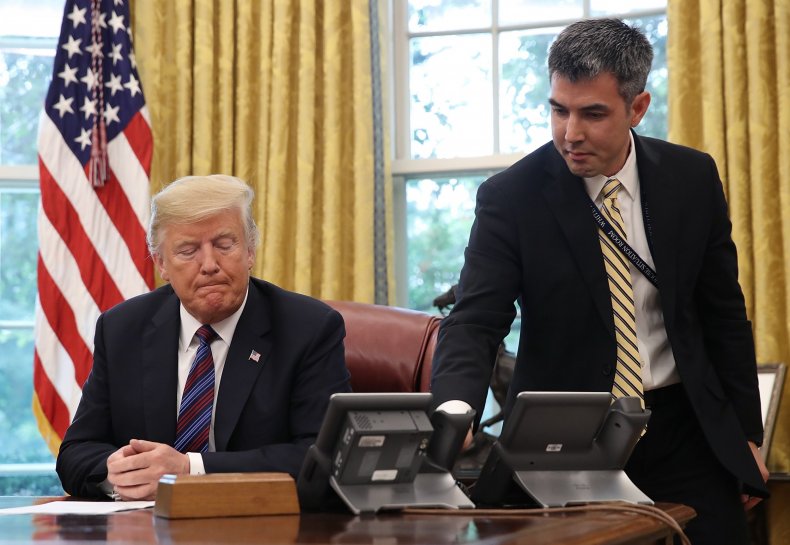 After an agonizing wait for the much-hyped announcement, a voice was heard saying, "President Trump."
President Peña Nieto could then be heard saying, "Buenos dias," and a translator said, "President Trump, how are you, good morning."
"Congratulations, that's really a fantastic thing. We've all worked really hard," Trump said.
The two then moved on to the issue at hand, a new trade arrangement between the U.S. and Mexico. "It's a really good deal for both countries," Trump said as Peña Nieto agreed.
"I think this is something very positive for the United States and Mexico," the Mexican president said, adding that he hoped Canada would join the U.S. and Mexico in the deal.
Trump said the deal was "something that is very special for our manufacturers and farmers," and that it would not be called NAFTA because that name "has a lot of bad connotations for the United States because it was a rip-off." He said that if Canada did not join the deal, he would impose tariffs on its auto imports and possibly strike a separate deal with the country.
The trilateral NAFTA agreement was signed by the U.S., Mexico and Canada, and took effect in 1994. Trump argued that the deal created a disadvantage for American workers by inducing jobs and companies to move abroad. Trump said he would end NAFTA, but Congress would still have to approve such a move.
Monday's bilateral negotiations appeared aimed at pressuring Canada.
"It's a big day for trade," Trump said in the Oval Office. "It's a big day for our country."
Trump later tweeted out a video of the conversation although, perhaps unsurprisingly, left out the footage exposing his technical difficulties.
This story has been updated to include details of a tweet from the president.