Video: Donald Trump Is 'Stuck on Stupid' Over Shutdown, Says Former New Orleans Mayor Mitch Landrieu
The former mayor of New Orleans said President Donald Trump was doing what no mayor would ever get away with by allowing the government shutdown to continue.
Mitch Landrieu told MSNBC that Trump was "stuck on stupid" regarding the shutdown, saying it was not for the sake of security, as the president claimed, as it was actually making it more difficult for agencies like the FBI and the Coast Guard to operate.
"The president is way stuck on stupid right now," Landrieu told host Chris Matthews.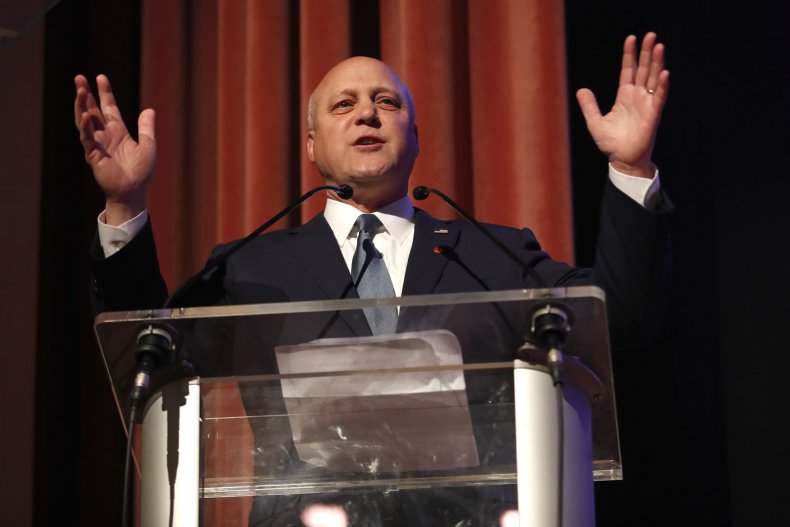 That was a reference to a comment made by General Russel Honoré, the designated commander of Joint Task Force Katrina in 2005. Honoré used those words while admonishing a journalist at a press conference.
Landrieu continued: "There is no mayor in America in his right mind or her right mind that would ever think about shutting down the government. This is why the people of America are really frustrated with Washington. It's not an option.
"If you were a mayor and you shut down the government, they will put you in the ground, figuratively, within 24 hours.
"The FBI, the ATF, the Coast Guard, the National Finance Center in New Orleans, Belle Chasse Air Force—all of these folks whose job it is to secure us are really now having a very difficult time doing their job," he said.
Landrieu later went on to social media to double down on his comments, tweeting, "Yes, I said it. He's stuck on stupid. Long past time to end the shutdown and get to work."
On Thursday, the U.S. Senate rejected two bills to end the shutdown, after the Republican legislation got 50 votes with 47 against, with 52-44 for the Democratic bill, well short of the 60 votes needed to pass.
Six Republican defectors, including former White House candidate and Utah Senator Mitt Romney, sided with the Democratic bill, which would have reopened the government until February 8.
The impact of the longest shutdown in U.S. history is being felt in a number of areas. Aviation unions warned that it was straining air traffic control and posing safety issues.
A joint statement from unions representing U.S. pilots said, according to CNBC, "In our risk-averse industry, we cannot even calculate the level of risk currently at play, nor predict the point at which the entire system will break. It is unprecedented."
Startups in Silicon Valley are unable to issue IPOs, and thousands of immigration hearings have been delayed due to closed courts, The Associated Press reported.