Video: Drake and Kendrick Perkins in Verbal War During Game One of Raptors Vs Cavs
Game One between the Toronto Raptors and the Cleveland Cavaliers lived up to expectations on the floor, but the action off the court was just as captivating as Drake and Kendrick Perkins became involved in an altercation.
Just before halftime, the rapper who is a Toronto native and passionate Raptors fan, took exception to Perkins trash-talking Raptors center Serge Ibaka and exchanged words with Perkins before Cavs' forward J.R. Smith stepped in to separate the two.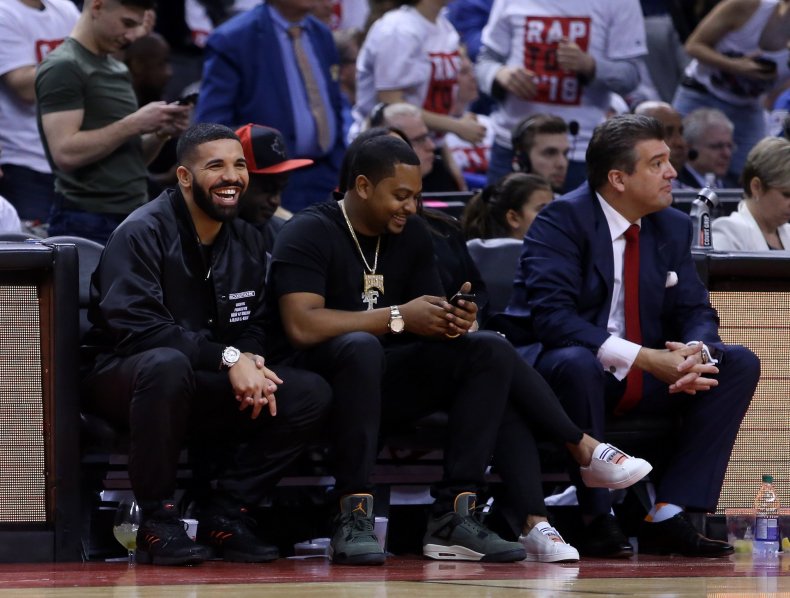 Once the Cavs' center had made his way to the team's locker room, Drake's bodyguard was approached by members of Cleveland's security personnel. A discussion ensued, during which the rapper could be heard defending himself by claiming "I never said that shit."
Drake, who was occupying his usual courtside seat at the Air Canada Centre, then left the court, through the tunnel and up towards the Raptors' locker room, before coming down the ramp towards the floor and reportedly yelling obscenities aimed at Perkins.
After the game, the Cavs' center explained the argument stemmed from a misunderstanding, indicating he was joking with Ibaka, whom he played alongside for the Oklahoma City Thunder when they reached the NBA Finals in 2012.
"I was fucking with Serge [Ibaka], my old teammate" Perkins told ESPN's Adrian Wojnarowski. "I wasn't talking to [Drake]."
"[I was] telling [Ibaka] 'We about to win this game,' and Drake butted in talking shit to me. So I said something back to him."
Perkins wouldn't elaborate on what Drake's words were but was more than happy to share his rebuttal. "He said something slick so I said something back: 'Sit your ass down and watch the game.'"
It was left to Drake to explain what he had said to rile up Perkins and the rapper did so via a comment on an Instagram post late on Tuesday night.
"I just said I like the hem on his capris," he quipped.
The Canadian singer is no stranger to on-court controversy. Last month, during the Raptors' first-round series against the Washington Wizards, he shouted "You're a bum!" to Wizards' forward Kelly Oubre Jr, while informing Washington's point guard John Wall that "You're getting bodied by 20 tonight!" in Game Two.
The Cavs had the last laugh as they won 113-112 in Toronto in overtime, taking a 1-0 lead in the series. LeBron James recorded a triple-double, with 26 points, 13 assists and 11 rebounds and received solid support from his teammates, with Tristan Thompson registering 14 points and 12 rebounds, while Smith and Korver scored 20 and 19 points respectively.