Video: Dramatic Footage Shows Plane Crashing Into Florida Warehouse
Dramatic surveillance video of a Cessna plane crashing into a warehouse in Florida was released on Monday.
The pilot and a passenger died in the accident, which occurred on Saturday around 1:30 p.m. in Fort Lauderdale, the Sun Sentinel reported. The video was released by H&J Electronics International on its Facebook page. In the video, the plane can be seen skidding down the street before smashing into the building and catching on fire.
"Surveillance footage of the plane crash at our warehouse. Unfortunately, the two people on the plane didn't make it," the owners of the company wrote along with the video. "We are praying for the family and friends of the two souls onboard."
A few seconds later, adults and children can be seen running out of the building. People from inside the businesses included those from an autism therapy center, according to news station WSVN. In the video, firefighters arrive shortly afterward to put out the fire.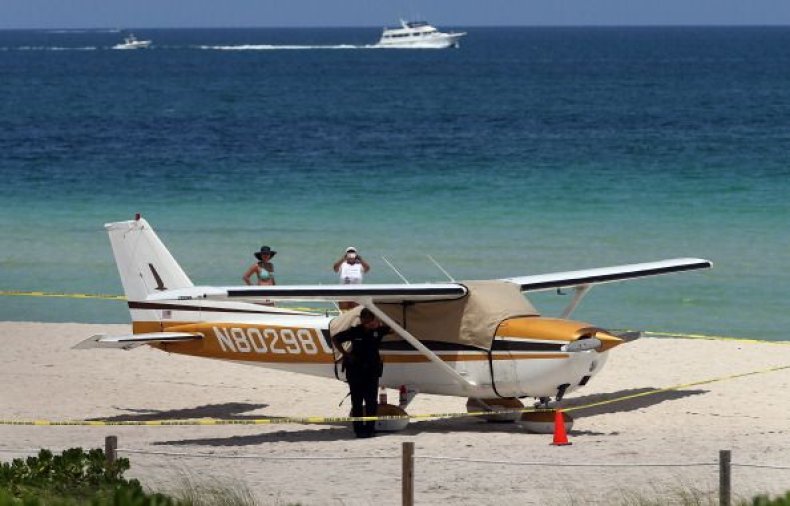 Battalion Chief Stephen Gollan, a spokesman for the Fort Lauderdale Fire-Rescue Department, told ABC 10 that some teachers and children from the therapy center were in the building when the accident occurred.
Claudia Axelrod, the regional director for Positive Behavior Supports, told CBS 4 that there were six students inside, ranging in age from 5 to 10, but all of them made it out safely.
"The front door was on fire and was blocked by the debris. The roof caved in on them, but they protected the children," Axelrod told the news station.
She added that, out of the eight staff members, only one employee suffered minor injuries. "They acted like heroes. They sure did. We are very thankful," Axelrod told CBS 4.
Gollan told the Sun Sentinel the teachers were heroic in how they acted after the crash.
"The teachers of that center are the true heroes in this situation, for their quick response and getting the children out of the building," Gollan told the newspaper.
The Federal Aviation Administration (FAA) told WSVN the Cessna 335 aircraft crashed into the warehouse after departing from Runway 9 at the Fort Lauderdale Executive Airport. The FAA said it won't release the plane's tail number or the identity of the victims until relatives are notified, according to WSVN.
The National Transportation Safety Board is investigating the crash, according to the Sun Sentinel.