Video: Drones Peer Into Active Volcano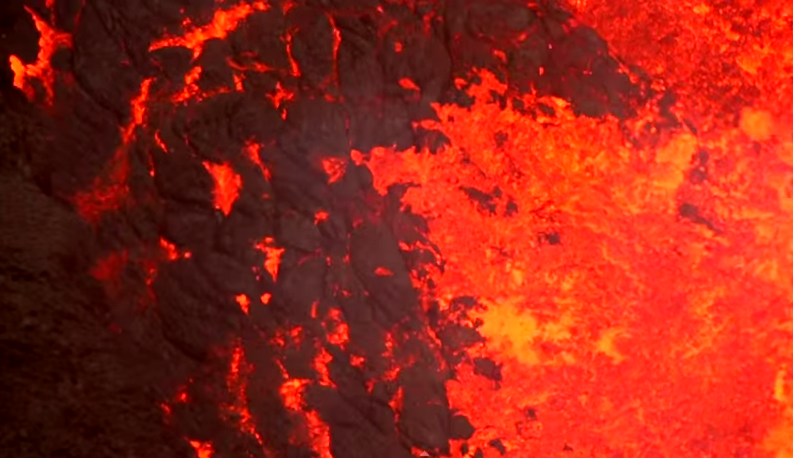 You can only get so close to an active volcano before it's too close. Sam Cossman, a self-identified "adventurer and filmmaker," recently decided to take advantage of new technology to capture footage and create a 3-D map of an active volcano.
Leading a team that included climber and photographer Brad Ambrose, videographer Conor Toumarkine, drone expert Simon Jardine, and astrobiologist Jeff Marlow, Cossman recently visited the Marum crater on the island of Vanuatu, located in the South Pacific Ocean. Vanuatu is part of a string of volcanoes known as the Ring of Fire. According to National Geographic, 75 percent of Earth's active volcanoes are located along the ring (which is actually shaped more like a horseshoe), and 90 percent of earthquakes occur along it.
Marlow described the island as "a verdant wonderland, the very embodiment of a tropical paradise," in a post for Wired. "Palm fringed beaches look out toward blue waters that host vibrant ecosystems, while jungles thick with ferns and technicolor flowers burst from the fertile soil."
In the middle of this tropical paradise lie the volcanoes: "It's not all Mai Tais and paragliding in Vanuatu," Marlow continues, "and the thick plume of volcanic gases in the distance was undeniable proof."
The team used drones fitted with GoPro cameras to gather footage of the crater and lava lake below that would allow them to render the first 3-D map of the volcano. The drones also helped identify collection sites to sample lava that Marlow hopes to use to study the development of microbial life in extreme environments.
"I believe we are at the dawn of a new age of exploration, one that greatly benefits from the use of modern technology," Cossman told National Geographic in a Q&A.
"The drones enabled us to navigate around the gas plumes and perpetually shifting clouds (something that satellite imagery is unable to do) to shoot a series of thousands of images." These, he explains, "could be stitched together with photogrammetry software to create the first true to scale, 3-D model of a volcanic crater and lava lake."
The drones themselves didn't all make it back from their mission safely, Cossman explains in the video. Some got lost in the lava, and others got ruined in the extreme heat above it, but the team was able to retrieve video footage and photos.
Cossman had previously visited the volcano, which resulted in another video, published on YouTube in September. It has since garnered roughly 3.7 million views.