Video: Dwayne 'The Rock' Johnson Brings Stunt Double To Tears By Surprising Him with a New Truck
Actor Dwayne "The Rock" Johnson surprised his stunt double with a new pickup trunk during a staged behind-the-scenes interview—and his fans loved it.
In a video posted to Facebook on Monday, Johnson and his stuntman Tanoai Reed were doing a staged interview on what appeared to be the set of a new movie. The two men begin by talking about Scorpion King, which was the first movie they did together, then suddenly, Johnson changes the tone of the conversation and starts to get sentimental about working with Reed.
"He's been an incredible partner and brother to me," Johnson says of Reed. "It's been an honor and I want to say from the bottom of my heart, I love you, I thank you, and enjoy your new truck."
Johnson then steps backwards and reveals a black truck behind him, parked on the grass and topped with a red bow.
Reed is left speechless by the generous gift. "No, what," he said, before embracing Johnson.
Alongside the video, Johnson's Facebook post explains that Reed has "broken multiple bones, severed tendons, torn ligaments" over the years while acting as Johnson's stunt double.
"[He's] been an overall dominating bad ass achieving several "Stuntman of the Year" honors," Johnson wrote. "All done with one goal in mind—deliver the best movie possible to the world."
Reed was suffering from a stunt injury at the time the video was taken. He is not only Johnson's stunt double, but also his cousin.
"Not only does Tanoai represent our family and my career with relentless commitment and passion. He also represents an entire Hollywood stunt community that is truly the backbone of our business," Johnson continued. "Love you uso [sic] and thank you for the blood, sweat, tears and years."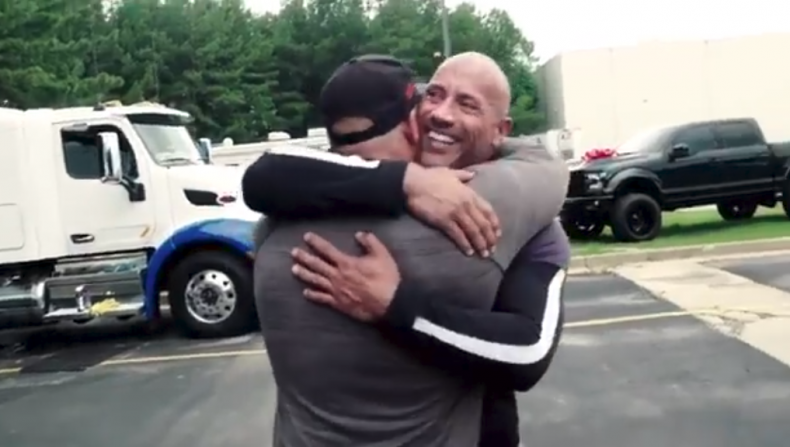 The video quickly went viral after Johnson posted it to social media. It had been viewed over 1.1 million times on Facebook and almost 5 million times on Instagram at the time this article was published.
Fans of Johnson took to the comments section of the post to praise him for his generosity.
"You truly are such a kind and generous soul. Wish there were more people in the world like you," Louisa West wrote. "Ever thought of running for President? I'm an Aussie, but from here it seems like your country could use some of your genuine spirit!"
"Man when I see grown men cry I cry. What a great bond these two have. If you take anything from this take away the lesson of appreciation," Denise Marie added.
Johnson is an American actor, producer and retired professional wrestler. He rose to fame after starring in various action and comedy films including Baywatch, Jumanji: Welcome To The Jungle, Skyscraper, Central Intelligence, San Andreas and the Furious 7.
In 2017, Johnson was named the second highest paid actor in Hollywood, raking in $65 million that year. He only made $3 million less than Mark Wahlberg who took out the number one spot with $68 million.