Video Emerges of Police Brutality in Serbia During Coronavirus Lockdown Protests
Serbian law enforcement officers were seen striking Belgrade civilians with batons in a recent video, as protests against new coronavirus restrictions turned violent in the country's capital city.
The video, which appeared on Serbian news broadcasts and emerged on social media Tuesday night, showed a group of police approach three individuals sitting on a public bench in the city. Police used batons to hit the individuals until all three had fallen to the ground, at which point officers appeared to leave the area.
It was not clear what incited the altercation, although numerous reports that surfaced over the past day have detailed an escalating conflict between Belgrade's police and the general population. Additional videos and photos shared to Twitter on Tuesday showed thousands of protesters gathered outside Serbia's parliament building in Belgrade, shortly after government officials reimplemented restrictions meant to contain further spread of the virus.
Serbian President Aleksandar Vučić announced the restrictions on Tuesday, citing an increase in patients hospitalized with COVID-19 nationwide in explaining the new policy. According to a statement released by his office, close to 4,000 patients were admitted to hospitals across Serbia with either confirmed or suspected COVID-19 infections as of Tuesday, July 7.
Restrictions to manage virus transmission include a ban on all public gatherings in Belgrade and a weekend curfew effective between Friday and Monday, Vučić said. The city's public gathering ban went into effect on Wednesday. The weekend curfew prevents residents from leaving their homes from Friday evening until Monday morning.
Protestors gathered outside Belgrade's parliament building soon after the president's announcements. According to the Associated Press, some chanted "Resignation!" during the rally while police used tear gas in attempts to disperse the crowd and protestors responded with stones, bottles, eggs and flares. Photos show several fires that broke out throughout the night. Serbian police director Vladimir Rebić told a national news station that demonstrators were arrested and officers were injured during Tuesday's protest, the APreported.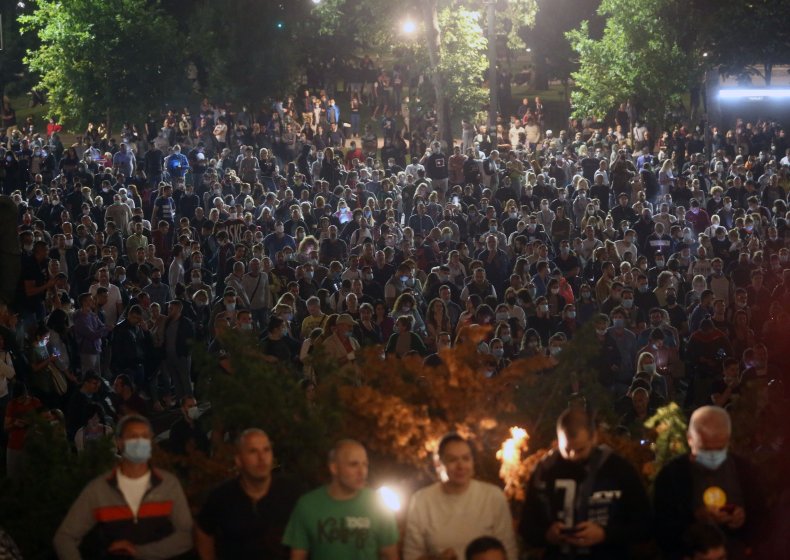 "I'm certain police will respond adequately and prevent any form of hooligan behavior," Rebić told the news station, according to the AP. Other photos posted to Twitter showed demonstrators were injured near the parliament building as well.
Newsweek reached out to Vučić's office and Serbia's police administration for comment but did not receive replies in time for publication.
As of Wednesday, July 8, more than 16,700 people have tested positive for the coronavirus in Serbia since the pandemic began, according to Johns Hopkins University's tracker. Of those diagnosed with the respiratory illness, at least 330 people have died.