Video of Enes Kanter Becoming U.S. Citizen Viewed Over 1 Million Times
Enes Kanter, the Boston Celtics center urging peers and sponsors to speak up against China's human rights abuses, became an American citizen on Monday in a courthouse ceremony that was widely viewed on Twitter.
Hank Fetic, the 29-year-old NBA player's manager, told the Associated Press that Kanter would complete a legal name change the same day to become Enes Kanter Freedom, with his former last name becoming his middle name.
In a tweet carrying a video of his naturalization ceremonies, Kanter can be seen pledging the oath of allegiance to the United States, before a judge declares him an American citizen and the basketball star celebrates by waving a small American flag.
"I am proud to be an American. Greatest nation in the world," he wrote on Twitter. "The Land of the free, and home of the brave."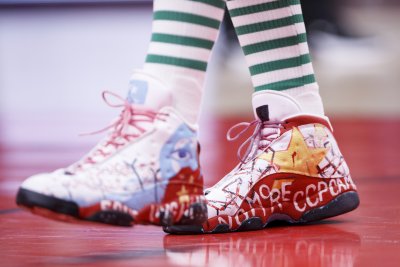 Kanter told Fox News on Monday that he had changed his name to celebrate becoming a U.S. citizen. He previously revealed to the same station that he had passed his citizenship test and would be taking his oath before the end of November.
The Celtics player thrust himself into the spotlight in the middle of last month when he revealed custom basketball sneakers that carried messages critical of the Chinese government and direct references to Chinese Communist Party General Secretary Xi Jinping himself.
Kanter continues to use his sizable social media presence to criticize Beijing's alleged human rights abuses against Uyghur Muslims in Xinjiang and residents in Tibet, as well as China's policies toward Hong Kong and Taiwan. They are each notable concerns shared by the Trump and Biden administrations, but few have gone as far as him.
For weeks, he has taken shots at the NBA and the association's main sponsor, Nike, for failing to publicly back his cause. Kanter has described China as a "brutal dictatorship" and recently accused the International Olympic Committee of being complicit in the country's silencing of tennis star Peng Shuai.
He joined the #WhereIsPengShuai and #NoBeijing2022 hashtags on Twitter, the latter a reference to the fast-approaching Winter Olympics that will open in the Chinese capital on February 4, 2022.
President Joe Biden is reportedly considering approving a diplomatic boycott of the Games, but right groups are calling on the U.S. and other governments to go further.
Swiss-born Kanter was raised in Turkey and has voiced his opposition to President Recep Tayyip Erdoğan. He describes himself as a friend of U.S.-based cleric Fethullah Gulen, who is accused by Erdoğan of being behind a failed attempt to overthrow the government five years ago. Turkey has sought the international arrest and extradition of Kanter over his links to Gulen.
In China, meanwhile, Kanter's sports activism has led to the suspension of all Celtics streams. All recent references to his name have been censored on Weibo, the country's Twitter-like social media service.