Video: Ex-national Enquirer Editor Says Former Boss May 'End Up Doing Time' Over Bezos Extortion Claims
A former prominent editor of the National Enquirer has said that the extortion claims the tabloid's publisher is facing could culminate in a jail term for his previous boss.
Amazon CEO Jeff Bezos alleged The Enquirer tried to blackmail him by threatening to publish intimate text messages and photos of him unless he stopped investigating the tabloid.
Bezos had hired a private investigator to figure out how private text messages between him and his girlfriend, former TV host Lauren Sanchez, were leaked and published by The Enquirer, in a story which coincided with end of his marriage to MacKenzie Bezos.
Bezos outlined the issue on his blog at Medium.com, saying the tabloid made the threat as part of "extortion and blackmail," and referred to American Media (AMI) CEO and National Enquirer publisher David Pecker.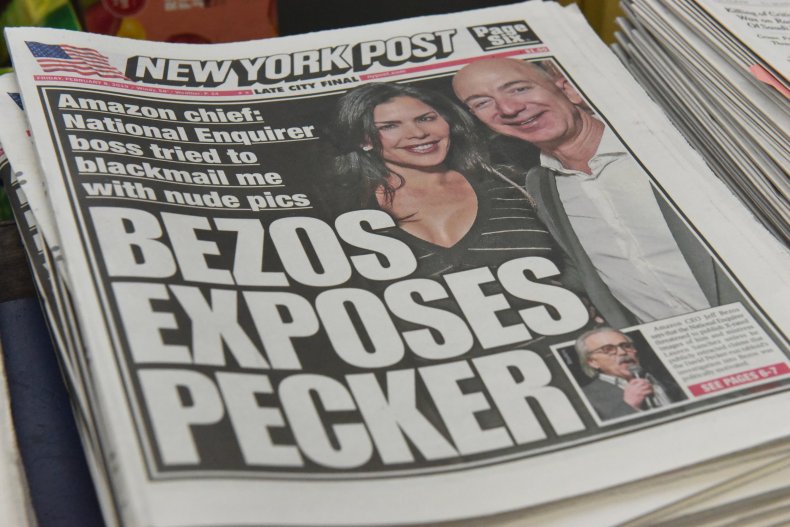 Bezos also said he was asked to state that the tabloid's stories about him were not politically motivated.
John Dean, the former White House counsel under President Richard Nixon, said in a CNN discussion that it was not clear that Pecker had violated federal or state law, but it's "prima facie that he has."
Meanwhile, Jerry George, who was a senior editor and Los Angeles bureau chief for the publication for many years, said that Pecker could be jailed over the claims.
"It is looking less and less like yellow journalism and more like organized crime. I think there is a very strong chance that David Pecker may end up doing time," he told CNN on Friday, Mediaite reported.
In the discussion hosted by Erin Burnett, the assistant U.S. Attorney for the Southern District of New York, Harry Sandick, said the tabloid itself may also be endangered.
"I think there is a real risk to the institution, the newspaper if it faces indictment.
"They may have debt could have covenants, agreements with investors… An indictment of an institution, a corporation is usually a death sentence," he said.
Bezos's investigation concluded that the story about his private life was politically motivated. The owner of The Washington Post, Bezos is often at loggerheads with President Donald Trump who is said to have connections with The Enquirer.
In a statement, AMI says the company "acted lawfully" in how it reported the story of Bezos's affair.
"Further, at the time of the recent allegations made by Mr Bezos, it was in good faith negotiations to resolve all matters with him."
"Nonetheless, in light of the nature of the allegations published by Mr Bezos, the Board has convened and determined that it should promptly and thoroughly investigate the claims. Upon completion of that investigation, the Board will take whatever appropriate action is necessary." the company said, according to the BBC.