Video: Exploding Philippines Volcano Unleashes Giant Ash Column And Molten Rocks Amid Mass Evacuation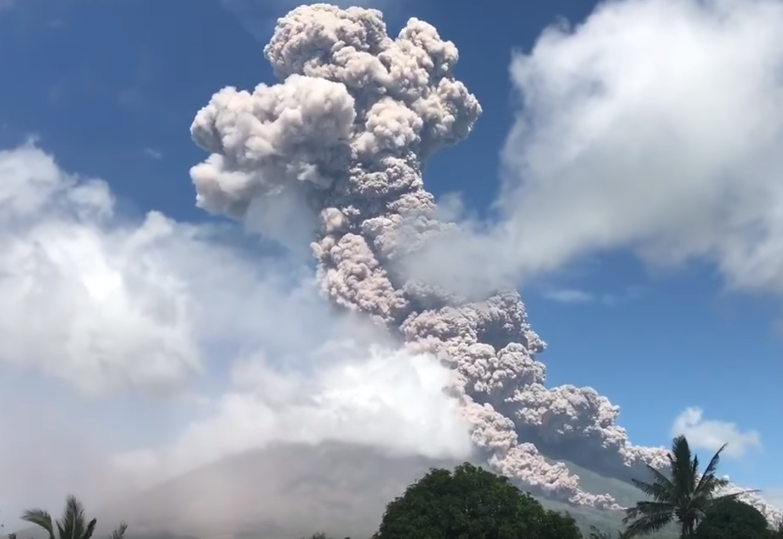 Mount Mayon, the Philippines' most active volcano, violently exploded around midday on Monday, leaving a gigantic ash column in the sky and lava fragments crashing down on surrounding villages.
Following the eruption, the Philippine Institute of Volcanology and Seismology raised its alert level to four, indicating that a dangerous eruption was imminent and would likely occur within hours or days.
Renato Solidum, director of the Philippine Institute of Seismology and Volcanology, and other officials told Associated Press that the explosion, which took place around midday, sent superheated lava and molten rocks cascading onto surrounding forests and nearby villages.
Approximately 27,000 residents in the villages surrounding the mountain have been evacuated since the active volcano started flaring up, more than a week ago. Authorities have extended the danger zone around the mountain to five miles from the crater.
"If the eruption is vertical, it's possible pyroclastic flows or pyroclastic density currents may cascade down in all directions," Solidum said in a news conference.
Solidum told residents and tourist to stay safe and refrain from entering no-go zones, and told airplanes to stay as far away from the crater as possible, AP reported.
In a Facebook post on Monday, Albay provincial Governor Al Francis C. Bichara advised residents to stay indoors.
"Classes in all levels private and public are now suspended in the whole province of Albay. Everyone is advised to wear their face masks and to stay indoors," he wrote. "Mayon Volcano is erupting. Everybody is advised to stay indoors, especially to our friends in the third district of Albay."
Mayon is an active, 8,070-foot stratovolcano in the Albay province of Bicol Region in Luzon, the Philippine's largest and most populous island.
The mountain has attracted many climbers and tourists over the years, despite having erupted more than 50 times in the past 500 years.
Watch videos of the Mount Mayon volcano explosion below: