Video: Firefighters Rescue Arizona Woman Surviving on Air Pocket After Car Falls in Canal
Arizona firefighters have released dramatic footage showing the moment a woman was rescued from a car submerged entirely in a canal.
The Mesa Fire and Medical Department managed to pull the woman out from the canal near Alma School Road in northwest Mesa, following recent monsoon conditions in the area.
Emergency services believe the woman, who is in her 50s, was able to survive being trapped underwater by breathing in an air pocket inside the vehicle.
"It's the only explanation we have," Dean Morales, special operations captain with the Mesa Fire Department, told ABC 15. "She's very lucky."
Morales added that usually firefighters do not attempt an underwater rescue unless they have the proper diving equipment. "This was one of those operations that you do what it takes," he said.
One of the first responders on the scene was able to force the door open and pull the woman out.
Eyewitness Keven Braegger added it was a "miracle" that the woman survived.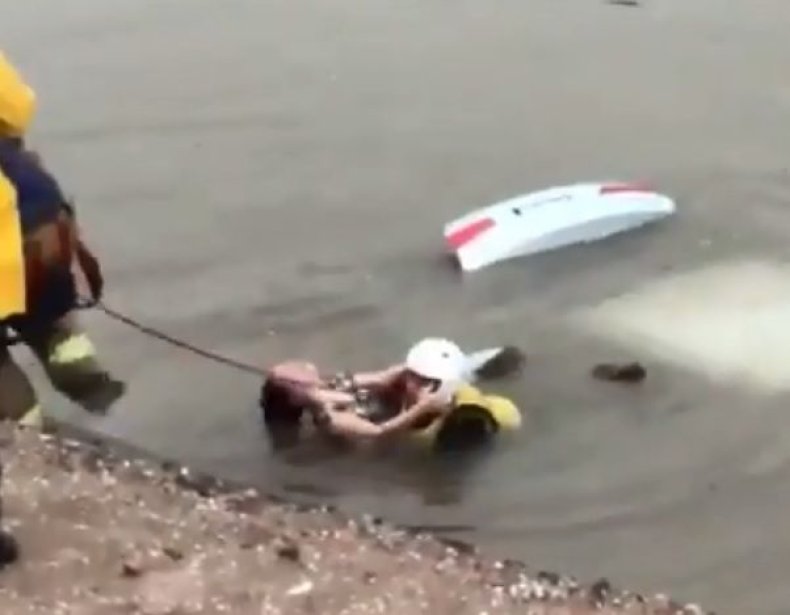 "Just how deep that is, how the car is completely underwater, I don't know how anyone can survive that," Braegger said.
According KPNX 12 News, the woman even managed to call police from inside the car to say she was trapped, before the line went dead.
Following the dramatic rescue, the department said the woman only suffered minor injuries.
It is unclear how the car ended up in the canal, or how long it had been submerged. However, it is believed the recent unsettled weather across Arizona may have played a part.
Tens of thousands of residents are still without power following winds of up to 80 miles per hour in the state, with torrential rain also causing flash flooding in Scottsdale and Phoenix, according to weather.com.
The wet and windy conditions have been described as a "double-edged sword" by ACCU Weather.
"Daily showers and thunderstorms will help ease drought conditions in the southwestern United States this week, but also enhance the risk of flash flooding and dust storms," forecasters said.
"The uptick in wet weather began this past weekend over the Southwest, with moisture expected to continue to stream into the region through much of the week. "
Elsewhere, the Mesa Fire and Medical Department rescued a man in his 70s after the strong winds caused a tree to collapse on his house. Officers were called to the address on University Drive and Center Street on 9 July and safely got the man out.
The man escaped with only minor injuries.
Video: Firefighters Rescue Arizona Woman Surviving on Air Pocket After Car Falls in Canal | U.S.