Video of Florida Classroom Stripped of Books After DeSantis Ban Goes Viral
A video showing the empty bookshelves of a Florida school trying to comply with a Ron DeSantis–backed law that requires the approval of books in classroom libraries has gone viral on Twitter, with more than 5 million views.
The 18-second clip, shared by a Twitter user based in Jacksonville, shows several empty bookshelves in an elementary school's library. The caption reads: "Since y'all wanna play the 'this isn't really happening' game."
The same user had previously complained about "every single book" in his children's classroom being removed, adding that students were told the librarian had to review every book. "Not only did they have all the teachers remove the books from their classrooms, they took any library book the kids were reading and didn't let them finish," the user wrote last Friday. "All in a week where they are having a book fair fundraiser."
Several school district officials have been scrambling to comply with new guidelines issued by the state earlier this month, according to media reports. The HB 1467 law, which was championed by DeSantis, the state's GOP governor, and passed last March, requires teachers to remove books that do not appear on the state-approved reading list, at least until they are reviewed by an employee with a media specialist certificate.
Under the new policy, books containing explicit content, particularly pornographic material, are prohibited from classrooms.
Many on Twitter commented on the video, saying how ironic it was that Florida schools were forced to strip their classrooms' shelves of books while the state was celebrating Literacy Week, seven days dedicated to raising awareness about the importance of reading.
Under the "curriculum transparency" law, if non-sanctioned books are found on a classroom's shelves, teachers could face felony charges. The policy also allows parents to issue a complaint if they think a book is not appropriate for their children.
The new guidelines issued by the state don't contain a list of specific books but offer a definition of material that should be considered explicit and other illicit material.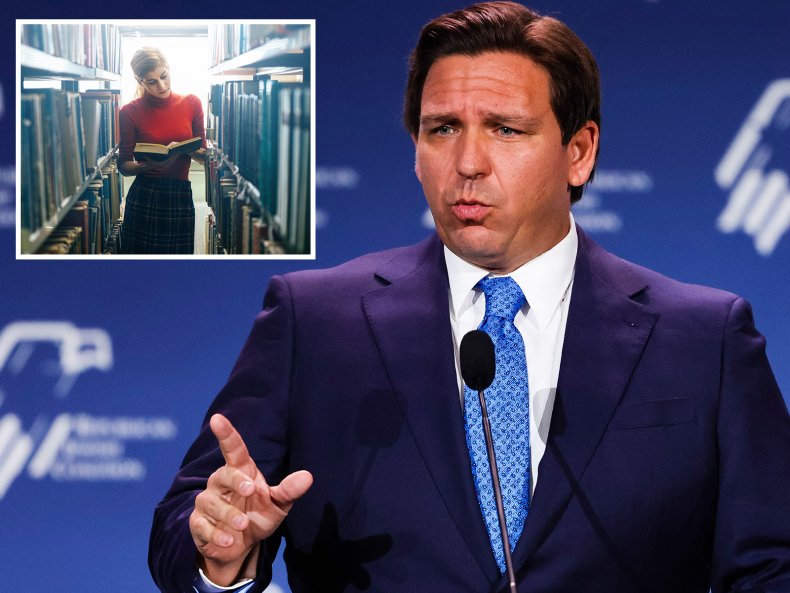 The law has been controversial in several ways, as LGBTQ rights activists have said the guidelines might be used to remove queer literature from bookshelves. Critics also complained about the ban potentially being used to target books discussing Black history and racial justice.
Newsweek contacted Florida's Department of Education and DeSantis' office for comment.