VIDEO: Florida Teens Arrested For Stealing A Pizza Delivery Car, Leading Cops On High-Speed Chase
Two teen suspects were pursued by sheriff's deputies in Marion County, Florida, after they allegedly stole a pizza delivery car, complete with two pies in the back seat.
The suspects, ages 17 and 16, were arrested on March 20 for stealing a car and leading authorities on a dangerous, high-speed chase through town.
The Marion County Sheriff's Office posted the video on social media on March 21 with the message: "What you should do: Get a driver's license, buy your own vehicle, and go on a Sunday drive. What you shouldn't do: Steal a vehicle, drive it without a license, and flee from the police. Can you guess what these two did?"
The driver of the vehicle has been identified as 16-year-old Keishawn Jelks. He was charged with grand theft of a motor vehicle, no valid driver's license, and fleeing to elude a law enforcement officer.
His passenger, 17-year-old Dontarrius Wise, was charged with grand theft of a motor vehicle.
The video shows the vehicle weaving in and out of traffic at high speeds, even darting off the road and driving in a grassy ditch alongside it for 20 seconds before returning to the pavement.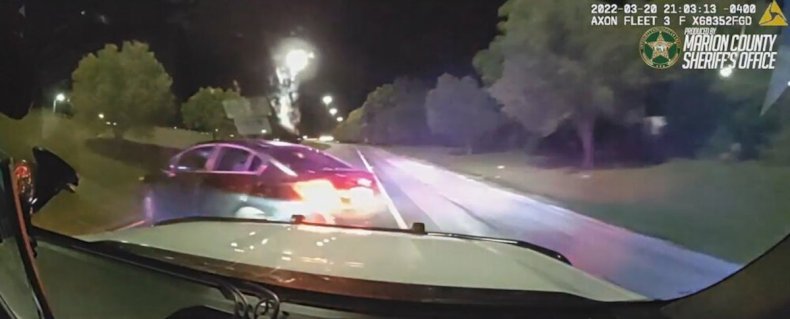 The sheriff's office said: "On Sunday, March 20, 2022, we received information that a pizza delivery driver's vehicle, which was stolen while the driver was out delivering pizzas in Gainesville, may be in Marion County.
Deputy Karr located the vehicle and attempted to conduct a traffic stop on the vehicle. However, the driver of the vehicle, 16-year-old Keishawn Jelks, refused to stop."
At that point, the sheriff's office said Deputy Karr initiated a pursuit. When Jelks attempted to get onto Interstate 75 Northbound, Deputy Karr "disabled the vehicle by performing a successful P.I.T. [pursuit intervention technique] maneuver."
The pursuit tactic, in which the pursuing vehicle makes contact with the fleeing vehicle, is used to force the fleeing car to turn sideways and stop.
"Jelks and his passenger, 17-year-old Dontarrius Wise, were both detained. During a search of the vehicle, deputies located two pizzas in the back seat," the statement said.
"They were both transported to our Gold Star Hotel and then to the Department of Juvenile Justice to be held in secure detention."
In January, three Florida teens faced charges in connection with a stolen vehicle that they abandoned to evade arrest, police in Port St. Lucie said. Two 17-year-olds and one 14-year-old fled on foot and then swam across a canal in an effort to avoid arrest.
This story was provided to Newsweek by Zenger News.