Video: Floyd Mayweather Finally Gets Floored in Charity Basketball Game: 'The First L of His Career'
He might be one of the greatest boxers of all time, a holder of multiple world titles who retired undefeated with a 50-0 record, but it looks like Floyd Mayweather Jr. has finally been beaten. However, defeat for the 42-year-old didn't come in the ring, but on the basketball court.
Mayweather finally met his match when participating in a charity basketball game at the UCLA Pauley Pavilion in Los Angeles, California. Going up against Larry Williams, "Money" soon found himself on the floor after being bamboozled by the 29-year-old's dribbling wizardry.
In the video that has since gone viral, the crowd goes wild as they watch Mayweather sent crashing to the floor by a brilliant feint from the street basketball great. To rub salt in the wound, Williams proceeds to shoot a three-pointer. Admittedly, Mayweather takes the fall with grace, and can be seen smiling while laying on the floor afterward.
People took to social media to comment on seeing Mayweather get dropped. "Dang not even all of his money could save Floyd himself from that," one person tweeted, while another wrote "RIP to Floyd Mayweather's ankles"
Others joked that his fall in the game meant that Mayweather's unbeaten record was finally broken. "Took the first L of his career" one wrote, while another said "Floyd Mayweather's record is now 50-1"
"Bone Collector just destroyed Floyd Mayweather's ankles" another said, a reference to Williams' nickname, the "Bone Collector" for his injuries he inadvertently inflicts on opposing players trying to stop him.
Mayweather was facing off against Williams in the Monster Energy 50k Charity Challenge, a celebrity basketball game where Team Floyd was going up against Team Gronk, led by retired New England Patriots player Ron Gronkowski.
The event aimed to raise money and awareness for multiple charities including Teen Cancer America for young adults with cancer, started by Roger Daltrey and Pete Townshend of legendary rock band The Who. The half-time performance featured the rappers Nick Cannon, DaBaby and Ty Dolla $ign.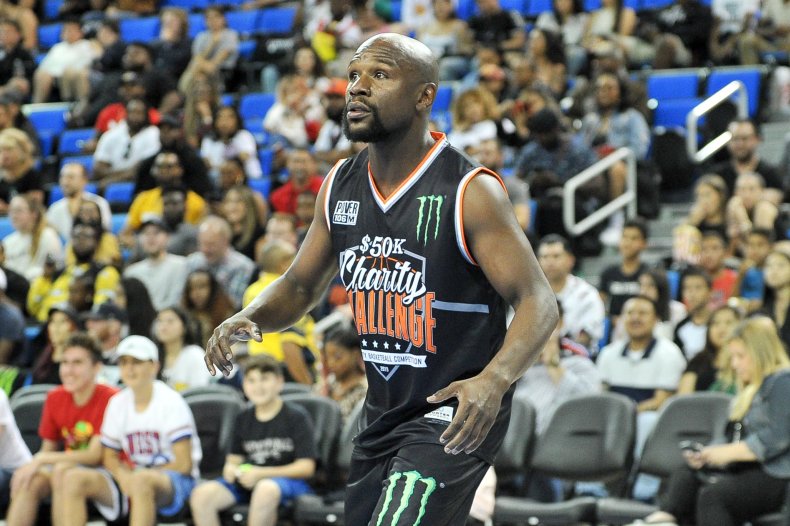 Mayweather, who held multiple world titles in five weight classes, retired for the third time in 2017 after defeating mixed martial artist Conor McGregor by technical knockout at the T-Mobile Arena in Paradise, Nevada.
He went on to fight Japanese kickboxer Tenshin Nasukawa on December 31 last year, defeating him in the first round of a three-round exhibition fight at the Saitama Super Arena in Japan. After the fight, Mayweather stated he was still retired and that he fought Nasukawa "just to entertain the fans in Japan." He made $9 million for destroying the 20-year-old in just over two minutes, according to Forbes.