Video Footage Shows Portland Cop Fatally Shoot Man Holding an Object
Police in Portland, Oregon, released video footage on Friday evening of an officer fatally shooting a man outside a Motel 6 after he raised an object and moved toward officers.
The police shooting took place outside a Motel 6 in Northeast Portland on Thursday evening, as officers and paramedics carried out a welfare check, local ABC affiliate KATU 2 reported. The roughly 45-second clip shows a small group of officers and paramedics talking to the man, who police described as a white adult male, as he sits on stairs outside the motel.
The man then gets up and raises an object in his left hand and begins moving toward the group. An officer then shoots the man, the video footage shows.
The man later died at the Legacy Emanuel Hospital after he was taken there by ambulance. Police have not yet publicly identified the man who was shot.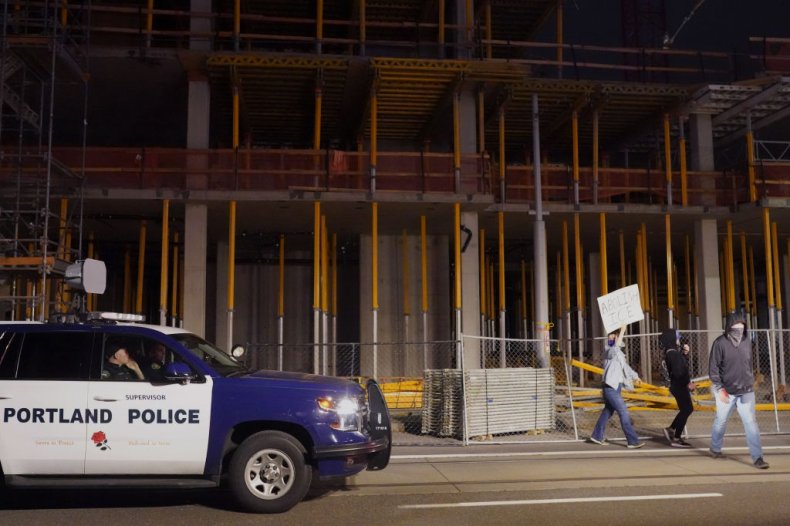 Officers released a photograph of what looks like a modified screwdriver, which they said was the object seen in the grainy surveillance video footage. The object had been sharpened at the end, and police described it as "a weapon that has been seized as evidence," according to The Oregonian.
The Portland Police Bureau identified the officer who shot the man as Curtis Brown, an 18-year veteran of the force. Brown has been placed on administrative leave pending an investigation into the shooting, which is standard procedure, according to KATU 2.
"While the investigation is still in its early stages, and releasing evidence at this point is rare, providing this video is critical to combat misinformation being spread," Police Chief Chuck Lovell said in a statement released with the video. "Transparency and community trust are extremely important to us, but so is a full, complete, and thorough investigation. This illustrates how important it is to allow the investigation process to unfold before spreading unverified information. An officer use of deadly force is among the most important investigations that we do, and it's crucial that we take the time to do it right," he said.
WARNING: Video contains graphic content that some viewers may find disturbing
Newsweek reached out to the Portland Police Bureau for further comment but did not immediately receive a response.
Police shootings and police brutality have come under increasing public scrutiny in recent years, particularly as activists have pointed to the disproportionate killings of Black and other minority Americans at the hands of law enforcement. Lawmakers in Congress are currently working to pass a bipartisan police reform bill in a bid to make systemic changes to curb abuses committed by police.
A database compiled and maintained by The Washington Post reports that an average of about 1,000 people have been killed by police annually since 2017. As of last week, the Post reported that 955 people were killed by police in the past year.