Video: Fox Host Sean Hannity Dismisses Donald Trump's Tax Losses, Says 'Businesses Fail Every Day'
Fox News host Sean Hannity has come to the defense of Donald Trump following revelations that the president's businesses lost more than $1 billion between 1985 and 1994.
The New York Times reported how it had obtained printouts from Trump's official Internal Revenue Service tax transcripts and found that his casinos and hotels lost $1.17bn in that period, figures so large he avoided paying income tax for eight of those years.
The report did not include information on the tax returns that Democrats have asked for, but it emerged that his losses in those years were among the larest of any American taxpayers.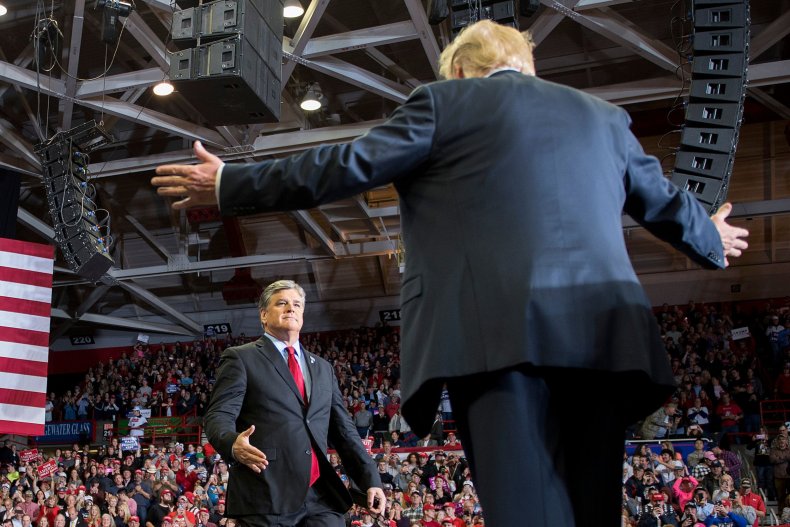 However Hannity, who has a close relationship with Trump and has appeared on the campaign trail with him, batted off the Times' report.
In a monologue captioned "never-ending smear campaign," Hannity said the release of the tax returns were a ploy by the left-leaning media unsatisfied with the conclusion of the report by special counsel Robert Mueller into claims of White House collusion with Russia.
Mueller said there was no evidence of collusion but stopped short of exonerating the president.
Hannity described how the media had now "obsessive hysteria" over the "decades-old" tax documents which he insisted revealed nothing new or illegal.
The Sean Hannity Show host said: "I know facts are hard things for some people on the left and the media mob to understand, (but) Donald Trump is still a billionaire, he's still president, we all knew that what happened in New Jersey in the casino business, yeah it kind of went south—businesses fail every day."
"The Trump organization is still an overwhelming American success story but this kind of vitriol just represents what the Democratic party's become."
Of the Democrats and the media that support them, Hannity went on, adding they could not accept the results of the 2016 election, nor the results of Mueller's investigation.
Hannity said: "This is a political cabal filled of sore losers that are now bordering on psychosis."
The White House has not commented on the tax returns but The Times quoted a lawyer for the president, Charles Harder, as saying the information was "highly inaccurate."
Unlike his predecessors, Trump refused to release his tax returns as a presidential candidate in 2016 or since being elected, saying he could not do so while his taxes were being audited.
On Monday, U.S. Treasury Secretary Steven Mnuchin refused a request by the Democratic chairman of the House of Representatives Ways and Means Committee for Trump's tax returns, Reuters reported.