Video: Fox Host Tucker Carlson Attacks South African Land Seizures from White Farmers-'This Is Racist Violence'
Fox News host Tucker Carlson has criticized The New York Times and other media outlets for their coverage of the contentious debate in South Africa over the ownership of land.
Last August, South Africa's President Cyril Ramaphosa announced that the ruling African National Congress (ANC) planned to change the constitution to allow the expropriation of land without compensation.
The racially charged issue has been amplified by what some groups describe as a spike in violence against white land owners.
On his show on Monday night, Carlson highlighted the case of wine farmer Stefan Smit, whose vineyard in the Stellenbosch wine region had been occupied by shack dwellers and he was shot and killed in his home.
It is too soon to say if the killing was related to the dispute over land or was a random criminal act but his death drew strong reactions from groups representing white farmers.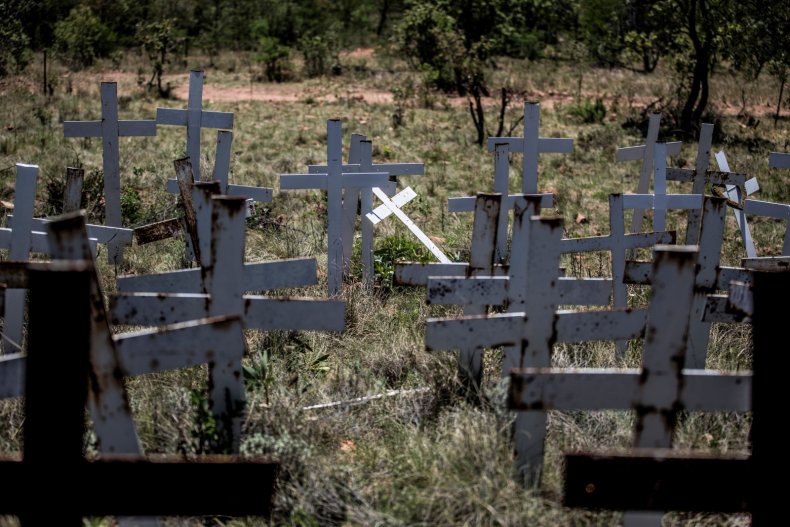 The host of Tucker Carlson Tonight had his view. He said on Monday: "Instead of protecting the farmers, the government of South Africa worked to change its country's laws to seize land without compensation and skin color is a central motivation. Nobody denies that.
"Let's be clear about what's happening. This is racist violence as brutal, horrifying and indefensible as anything that happened under apartheid. The difference is that the western media are cheering it on."
He said that Bloomberg had published articles suggesting that "race-based land seizures" would "supercharge the South African economy," before adding that neighbouring Zimbabwe had "tried that" and "became the poorest country in the world."
Carlson went on, saying: "Last year, The New York Times called this show immoral for suggesting that the farm murders might be a problem. But there is one problem for the Times—their own interview subjects are getting murdered," referring to the killing of Smit, whom they had previously profiled.
"But yesterday, four men broke into his home and shot him—it was the second farm murder in the Western Cape province in the last month. According to The New York Times, they deserved it."
Several media outlets have questioned Carlson's assessment of South Africa's land ownership issue.
Last August, Judd Devermont, the director of the Africa Program at the Center for Strategic and International Studies, told the Daily Beast that the land reform plan would not target land owners on race and would affect both white and black South Africans.
This week it described his latest comments as another example of "a conspiratorial rabbit hole popular with white supremacists."
Andrew Lawrence from Media Matters for America tweeted: "Tucker Carlson is reviving his white genocide conspiracy theory that is popular with white supremacists."
There does appear to be a dispute over the figures of violence against white land owners. Transvaal Agricultural Union says there were 84 farm murders in the 2017 calendar year recorded, of which, 59 victims were white. A further 15 people, including eight white farmers, were killed on farms in the first three months of 2018, it added, according to Australia's ABC network.
But last May, the agricultural industry body AgriSA released a report stating that farm murders were at their lowest for nearly two decades.
The number of farm attacks has almost halved from the highest recorded number of attacks in a single year, which was 1,069 in 2001-02, it said, according to South African news outlet Times Live.