Video: Fox News Host Panics after Mistakenly Broadcasting Graphic Showing It Is the Least Trusted Network
Update| Fox News broadcast a graphic that showed it was the least trusted major news network during a segment Sunday on Media Buzz.
Host Howard Kurtz told producers to "take that down" after displaying polls from Monmouth University that showed only 30 percent of Americans trusted Fox News more than President Donald Trump.
The same graphic showed that almost half of the U.S. trusted CNN and CNBC more than the president.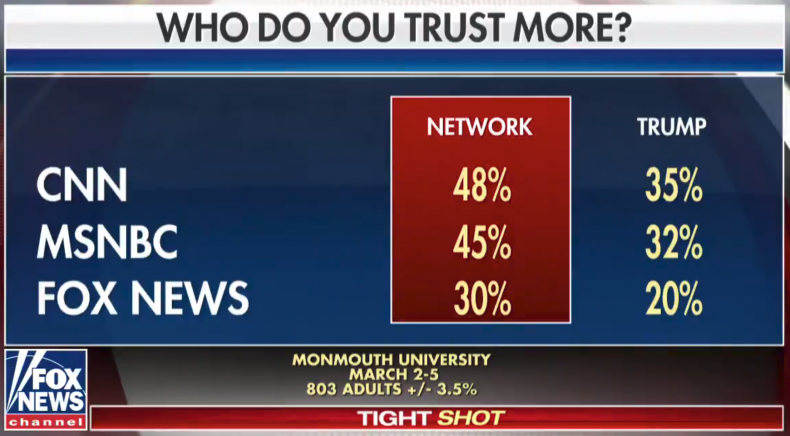 Airing the graphic was clearly a mistake, upon seeing the statistics Kurtz said, "This is not the graphic we are looking for. Hold off. Take that down please."
Kurtz, who was speaking to Republican pollster Frank Luntz about Trump's tweeting habits and fake news, expected to see a graphic that demonstrated that a large percentage of the American public believed the media regularly reported fake news.
"Speaking of fake news, there is a new poll out from Monmouth University. 'Do the media report fake news regularly or occasionally?' 77 percent say yes," Kurtz said, before noticing the wrong graphic.
Later in the segment, Kurtz explained why the graphic appeared but stressed that it wasn't an error.
Kurtz took to Twitter on Monday afternoon to clarify that the graphic was intended to be aired and all coverage that it wasn't is a "lie." He said it was posted out of sequence, which explained why he asked to take it down but then referred to it later in the segment.
"I ordered the graphic. It was posted out of sequence, and then I put it up 60 seconds later," he tweeted.
After playing live, clips posted online have since been edited by the network. However, parts of the show with graphics remain.
In January, Trump released his "Fake News Awards" list, after weeks of shifting deadlines and hype. The list contained a number of American news publications including CNN, Newsweek and the New York Times, which he perceived to have inaccurately reported a Trump-related story.
"And the FAKE NEWS winners are…," Trump wrote on Twitter, with a link to an article on the Republican National Committee website titled "The Highly Anticipated 2017 Fake News Awards."
The project was viewed by Democrats as anti-media and was criticized for attacking press freedom.
Watch the edited segment on Fox News below:
This story has been updated with additional comment from Howard Kurtz.