Video: Man Breaks World Record for Longest Hoverboard Flight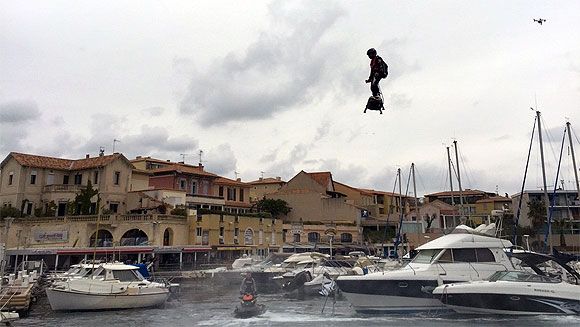 A French man has set a new record for the longest flight ever undertaken on a hoverboard. Franky Zapata, a former professional jetskier who invented the device, known as the Flyboard Air, traveled a distance of 2,252 meters (7,388 feet) on April 30, off the coast of Sausset-les-Pins in the south of France.
That was good enough to set a new world record, far surpassing the previous mark of 275.9 meters (905 feet), set last year by Canadian inventor Catalin Alexandru Duru.
"Nobody believed it was possible, even me," Zapata said in a video accompanying a story by Guinness World Records. "This is one of the best moments of my life."
The device can allegedly travel to an altitude of 10,000 feet and reach a top speed of 93 mph, according to its manufacturer, Zapata Racing. It is still in the prototype phase and won't be commercially available in 2016.
Somewhere, the Green Goblin weeps the loss of his hoverboard monopoly.