Watch: French President Macron's Aide Caught on Camera Beating Up Protesters, Gets Suspended
French President Emmanuel Macron came under fire on Thursday after his office suspended one of his aides who was caught on camera beating up a May Day protester but did not inform law enforcement authorities.
Alexandre Benalla, one of Macron's top security officers, was filmed wearing a police helmet and identification tag dragging a woman away before then striking and stamping on an unarmed demonstrator at a May Day rally. French newspaper Le Monde released the footage and Benalla was later identified as a member of the presidency staff.
According to The Guardian, authorities are now investigating into possible charges of impersonating a policeman, illegally using police insignia and violence by a public official. The incident occurred after Benalla was granted permission to use one of his days off work to "observe police operations" on May 1. Whether he purposefully chose that date because he knew there would be protests is unclear.
Although he has previously worked as a bodyguard, Benalla has never been a police officer.
"The staff member, Alexandre Benalla, had been given permission to witness the demonstrations only as an observer," presidential spokesman Bruno Roger-Petit said in a hastily arranged video statement. "Clearly, he went beyond this... He was immediately summoned by the president's chief of staff and given a 15-day suspension. This came as punishment for unacceptable behavior."
"What I watched was not normal, it was extraordinary, it was not legal, and it was not techniques used by the police. It's unacceptable, I'm extremely angry and I want to see action by the justice system, police and administration against this member of staff of the presidency," said an eyewitness of the incident.
"This video is shocking. Today we have the feeling that in Macron's entourage one is above the law," Laurent Wauquiez, president of the conservative Republicans, told Europe 1 radio, according to Reuters.
Meanwhile, Far-left leader Jean-Luc Melenchon told reporters: "If we accept that anybody can be a policeman alongside the police then we no longer have the rule of law .. This man is the eyes and ears of the prince [Macron]."
Alexis Corbiere, an MP for the hard-left France Unbowed party, said that "[Benalla] deserves to be punished with a prison sentence, at least a suspended sentence and with very heavy sanctions."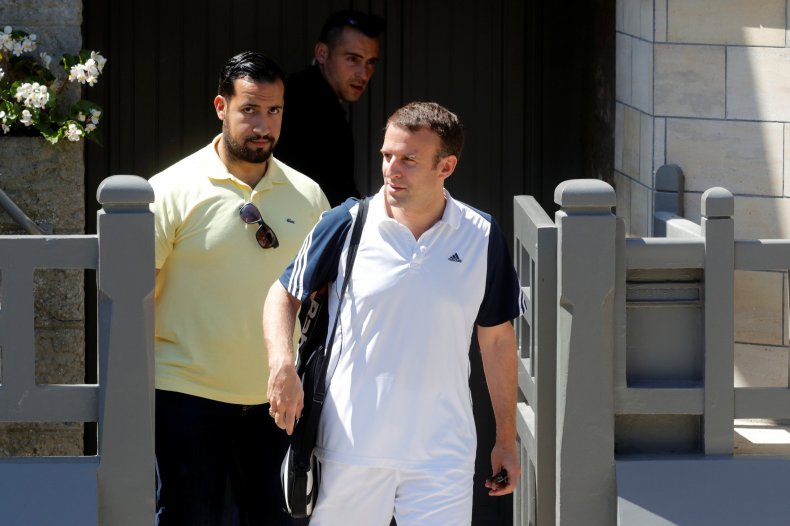 Macron declined to answer questions from reporters on Thursday as he was traveling through southwestern France. The presidency's handling of the matter was condemned by opposition parties, which argued that not only was the punishment too lenient but that the incident should have promptly referred to judicial authorities.
Other critics said the incident reinforced perceptions of a leader out of touch with ordinary people in France, coming on the heels of controversies over government spending on official crockery, a swimming pool built at a presidential retreat and cutting remarks by Macron about the costs of welfare.
Following the incident, Benalla was suspended for 15 days without pay—from May 4 to 19—before returning to Macron's immediate entourage.