Video Game Loot Boxes Should Be Regulated Like Casinos, Politicians Say
Loot boxes in video games, such as those seen in EA's FIFA and 2K Games' NBA franchises, should be regulated under the same legislation as casinos, Britain's House of Lords says.
The loot boxes, bought as in-game purchases, are like virtual treasure chests with the potential to win premium items, characters, outfits or unlock exclusive content.
Almost half (49 percent) of children between 10 and 16 years old believe online gaming is only fun when money is spent, according to Parent Zone.
"Forty-six percent of those who played video games also bought loot boxes, and among the loot box players, they were significantly more likely to also have gambling problems and-or problems with video gaming," Lia Nower, director of the Center for Gambling Studies at Rutgers University, said in 2019.
The new report, published by the House of Lords Gambling Committee chaired by Lord Grade, the former director-general of the BBC, called for immediate regulation of video games in the same regulations as casinos and amusement arcades.
"Loot boxes, for some, are almost a tutorial in gambling," Lord Grade tells Newsweek.
"It's a game of chance: you pay your money and it is a gamble. Technically they don't come under the legal definition of gambling but we think they should be regulated."
The industry around loot boxes is expected to be worth $50 billion by 2022, Juniper Research says, and is regarded as "the next cash cow" for video game publishers. It is currently said to be worth around $30 billion.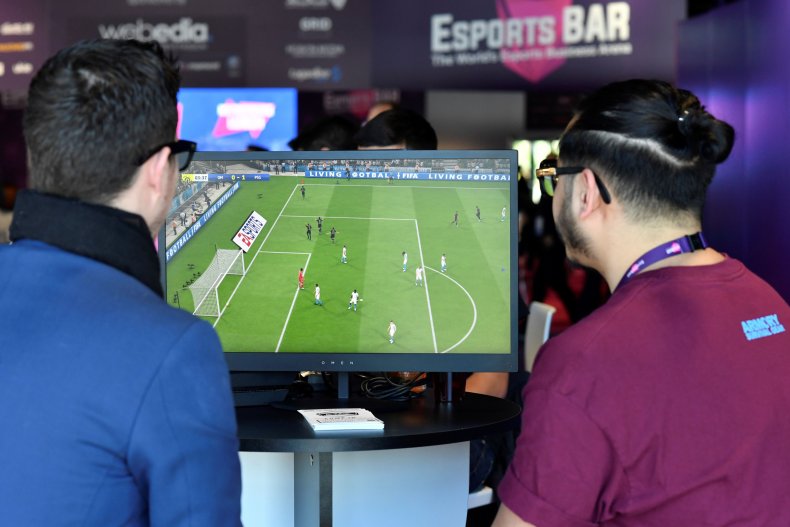 Microtransactions within the FIFA game's Ultimate Team mode accounts for 28 percent of parent company EA Sports' total sales and around 10 percent of total profits.
But "loot boxes" have become such a controversial topic that EA doesn't give them that name, choosing to call them "surprise mechanics" instead. A representative compared them to Kinder Eggs, a chocolate with a toy inside.
In the U.S., Kinder Eggs had been illegal until 2017 because candy could not contain non-food objects inside. Loot boxes have never been regulated in the U.S.
Republican Senator Josh Hawley said that he was creating a bill with a hope to ban loot boxes.
"Video game companies are using 'pay-to-win' and 'loot box' systems to addict children to their games and spend their parents' money," Hawley said on Twitter in May 2019.
"The industry needs to be upfront about their role in America's growing addiction economy and stop practices that exploit kids."
What starts as small purchases can add up, with some players spending as much as much as £700-a-month ($880) on them.
"We're talking about £5 loot boxes, particularly when it starts to add up and huge amounts of money is spent," Matt Zarb-Cousin, director of Clean Up Gambling, tells Newsweek.
"It's now 10 percent of EA's profits are made from them. The arguments against regulation are very weak. It just shows how out of date the legislation is that you're regulating crane grabbing machines in amusement arcades but not loot boxes."
There are reportedly 300,000 problem gamblers in the U.K., around 55,000 of whom are children. The same report found that around one in seven children aged between 11 and 16 bet regularly, around 450,000 children.
In the U.S., as elsewhere in the world, data on "pathological" and "problem" gambling is relatively thin on the ground. According to John W. Welte, of the Research Institute on Addictions at Buffalo State University of New York, around 10 percent of U.S. citizens gamble at least twice a week, with at least two million adult problem gamblers.
And what constitutes gambling varies by country. Daily Fantasy Sports are thought of as betting in the U.K. but thought of as games of skills in the U.S..
In Belgium, a country with more stringent gambling laws, loot boxes were banned in 2018. In the Netherlands, a similar law was put in place with fines up to $1 million.
"Most people gamble safely," Lord Grade says. "It's a sector that's culturally important and provides many jobs but there is a dark corner of it. You can now sit in your bath on your smartphone and lose £20,000 before the water goes cold."
"The [former] government liberalised gambling laws in 2005. Of course they didn't know smartphones were coming but government takes a long time to change. But any government would be incompetent if they didn't take this seriously and to be fair to them, they are taking this seriously. The quicker they do it, the quicker we stop the deaths and the harm to people."
The opposition to the regulation of loot boxes is relatively thin on the ground, with many games manufacturers reliant on them for profit margins but rarely talking about their virtues in public.
Kerry Hopkins, the vice-president of EA Games, said that the boxes and similar things in games were enjoyable to those who played them.
"We do think the way that we have implemented these kinds of mechanics - and Fifa of course is our big one, our FIFA Ultimate Team and our packs - is actually quite ethical and quite fun, quite enjoyable to people," Kerry told politicians.
No-one from EA responded to Newsweek's request for comment.
But those defenses are relatively infrequent and calls for regulation have been getting louder in recent times.
"There are two arguments here: One is should it be regulated as gambling? The second is should children be prohibited from accessing this type of product?," Zarb-Cousin says.
"Some people think that the answer to the first question is also the answer to the second question. But actually, we do regulate a lot of machines that are used by children. The grabby machine or the penny pushers at the arcades are regulated as gambling but still accessible for children."
In the U.K. the 2005 Gambling Act is being reassessed and, according to those Newsweek spoke to, changes are likely to include something for gambling in video games, though whether that is full regulation of loot boxes remains to be seen.
In the U.S., the bill by Senator Hawley has been introduced to the Senate but no further action has been taken.
"The thing is that the more that's spent by gamblers, the more profit companies make," Lord Grade says. "And loot boxes are gambling. It's a gambler's chance. Games manufacturers will fight it but we put a call out for evidence [and they didn't come]."