Video: Genoa Bridge Collapses, 'Dozens' Feared Dead in Italy
Horrifying footage has emerged showing the moment a highway bridge in Italy collapsed, with "dozens" of fatalities expected.
At least 22 people are believed to have died during the collapse, although the final number may rise as emergency services try to rescue people from the rubble.
The bridge collapsed during a heavy storm in the northern city of Genoa. According to Italian broadcaster Sky TG24, a 650-foot section of the Ponte Morandi fell over an industrial zone.
Onlookers could be heard crying, "Oh, my God! Oh, my God!" as they witnessed the highway collapse, sending cars plummeting below.
Get your unlimited Newsweek trial >
One person is reported to have been rescued alive from the rubble by emergency responders and has since been airlifted to hospital, reports Italian news agency ANSA.
Video taken from the scene appears to show a paramedic giving aid to an injured person on the ground, with several destroyed cars seen in the background.
Italian Transport Minister Danilo Toninelli tweeted: "I'm following with great apprehension what has happened in Genoa, which appears to be an immense tragedy."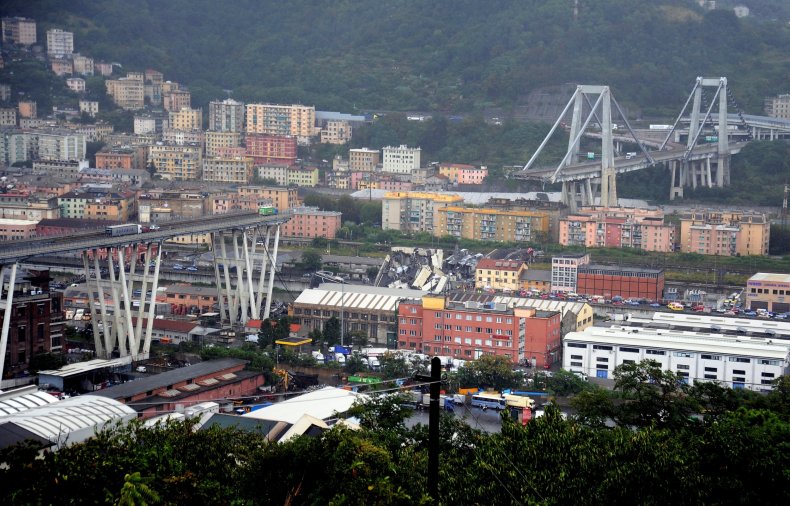 Get your unlimited Newsweek trial >
The number of casualties has not yet been confirmed. Italy's Adnkronos news agency cited an emergency ambulance service spokesperson who estimated that dozens had been killed, reported Reuters.
Interior Minister Matteo Salvini said around 200 firefighters were responding to the accident. "We are following minute by minute the situation of the bridge collapse in Genoa," Salvini said on Twitter.
The bridge, also known as the Polcevera Viaduct, was completed in 1967. It crossed over several roads, railway tracks and the Polcevera River. The bridge is 295 feet at its highest point and is 0.6 miles long, with the longest section between supports 650 feet apart, according to Associated Press.
An investigation has been launched to determine what caused the collapse, with ANSA reporting that officials believe the bridge was struck by lightning before it collapsed.
The bridge may have been busier than usual when it collapsed as vehicles crossing it were heading to celebrations for the Italian public holiday of Ferragosto, which takes place on 15 August.
Video: Genoa Bridge Collapses, 'Dozens' Feared Dead in Italy | World