Video: 'Designated Piñata' Geraldo Rivera Slams Migrant Gassing, Gets Attacked by Fox News Audience
To a backdrop reading "border chaos," Fox News host Geraldo Rivera said Monday that he refuses to deal with the so-called migrant caravan as a media issue, telling panelists on The Five he would fulfill his role as "designated piñata" to speak on the topic.
Fox host Jesse Watters teed him up, claiming the mainstream media had not shown the true intent of the crowd. Watters said a widely circulated picture of a mother and child had failed to show how men in the crowd were "violently attacking" and taunting U.S. Border Patrol, which confirmed over the weekend that its agents had used tear gas on some in the crowd.
"I refuse to deal with this as a media issue," Rivera responded, declining to take Watters' bait. "Because it's far too important with all due respect. This goes to my soul. Fulfilling my role as the designated piñata on Fox News, I wanna say I am ashamed. This tear gas choked me."
Referencing the popular FOX/AMC television show that centers on an undead outbreak in America, he added: "We treat these people—these economic refugees—as if they're zombies from The Walking Dead. We arrested 42 people, eight of them were women with children!"
Get your unlimited Newsweek trial >
On Sunday, U.S. Customs and Border Protection released a statement defending the choice to deploy tear gas on the crowd of Central Americans attempting to reach and enter the U.S. The agency said that "several migrants threw projectiles" at some CBP officers, who were allegedly hit, and the gas had to then be used "to dispel the group because of the risk to agents' safety."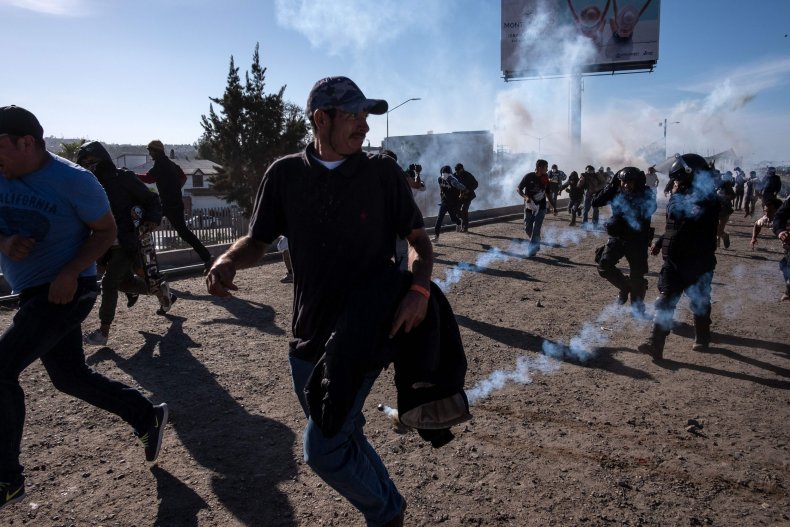 This week, President Donald Trump suggested the border could be closed permanently to halt the progress of the asylum seekers, who are mainly coming from countries such as Honduras, Guatemala and El Salvador. Thousands of people are now at the US-Mexico border.
Desperate people
Get your unlimited Newsweek trial >
"We have to deal with this problem humanely and with compassion!" Rivera added. "These are not invaders. Stop using these military analogies. This is absolutely painful to watch!
"We are a nation of immigrants. These are desperate people. They walked 2,000 miles. Why?! Because they want to rape your daughter or steal your lunch?
"No. Because they want a job! They want to fill the millions of unfilled jobs we have in the agricultural sector. They want to wash dishes in the restaurants," he told his silent fellow hosts. "They wanna deliver the pizzas. For goodness sake! Can't we suspend our humanity when it comes to this issue? And I fear that it is because they look different than the mainstream."
Rivera added: "You have the poorest people in the hemisphere living next door to the richest nation on earth. Their children are hungry. Of course there has to be a process but we need a process that recognizes that they are part of our continent. We can pay attention to our neighbors for goodness sake." He was accused of changing the topic of the debate.
"You are going to bigger issues when we are just trying to talk about a border," said Fox News host Greg Gutfeld in response to his stance. "This isn't a media story." Rivera again replied.
His comments were first highlighted online by Mediaite. After airing, they attracted significant attention and appeared to cause some backlash for viewers of the Fox News segment.
"Just switched off The Five. I love the show but cannot Geraldo Rivera," one viewer tweeted on Monday. Another added: "Time for [Rivera] to pack it in on Fox. He is so lame. It has nothing to do with compassion. What would he do if someone flung a rock at him? Dump him."
Earlier, Rivera had anticipated the backlash—doubling down on his stance. "The gassing of Migrant Caravan made me nauseous," he wrote. "Images may play [with] the base, but they will also be a scar on our nation's reputation. A hungry, frightened family will not stop trying to get to a better life. No, we can't accommodate all, but we can be humane and compassionate."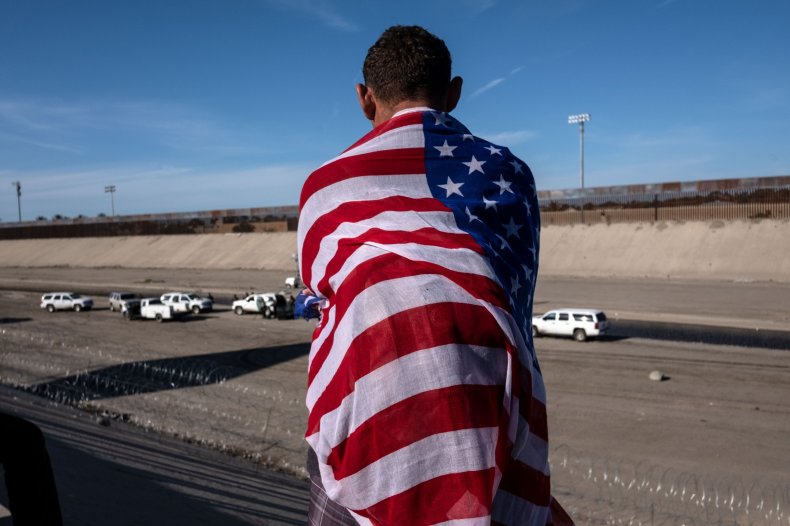 Video: 'Designated Piñata' Geraldo Rivera Slams Migrant Gassing, Gets Attacked by Fox News Audience | U.S.