Video of Girl Stopped From Hugging Winnie-the-Pooh Viewed 2.5M Times
A video has gone viral after one mother shared a video of her young daughter getting turned away from hugging Winnie-the-Pooh on a recent trip to Disneyland in California.
The video, now viewed 2.5 million times since its posting last week, was posted to TikTok by @iamdanireeves, whose name is Dani Reeves.
The video showed a young girl running up to the Winnie-the-Pooh character to give him a hug. Before she makes contact with the large costumed person, a uniformed "cast member" accompanying Pooh stopped the little girl.
"You can't hug," a voice seeming to come from the girl's mother is heard saying off camera.
"Sorry, I didn't know she was going to run up on him," she continued as the little girl blew a kiss to the character from afar.
"[COVID] sucks!" Reeves captioned the video. "My daughter was so embarrassed and upset after this."
Reeves told Newsweek that the moment caught on camera was the first time her daughter, who just turned 4, saw a character walking freely, so she was understandably excited.
She said she is not sure "what to think" about the reasoning behind the cast member's actions because while she thought it was due to COVID-19, comments below the video caused some confusion.
Some people speculated that the incident was not the result of COVID regulations but rather keeping the characters and children safe.
Reeves said if the incident was because of COVID then she felt it was a bit of a "contradiction." She explained that during her recent visit crowds were advised to "fill dead space" as well as filling rides with strangers riding next to one another with no apparent sanitizing in between.
According to Disneyland's website, due to COVID-19, some experiences like "character greetings," "parades and Nighttime spectaculars" and "Magical Makeovers at Bibbidi Bobbidi Boutique" have been paused for the time being.
The site said that while some meet and greets, where guests might be able to get an autograph and photo from their favorite characters, are paused, the characters are still in the park just in "new ways."
Recently, the Disney parks on both coasts announced that there would no longer be a mask requirement for vaccinated guests—though vaccination status is not checked upon entry.
The only exception, Thrillist reported, is guests will still be asked to mask up while onboard any enclosed transportation.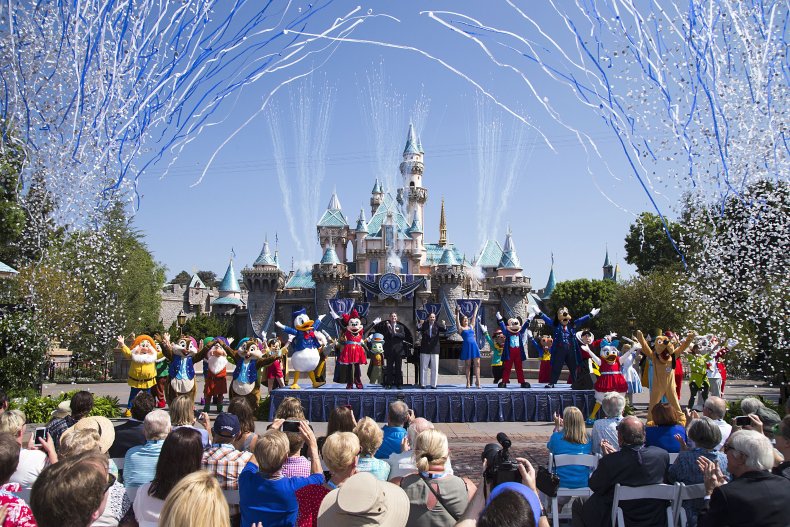 Reeves explained that during the visit, any character sighting would occur from behind a barricade unlike how she remembered her visits as a child where guests could interact closely with their Disney favorites.
Commenters below the viral video shared mixed reactions with some empathizing with the young girl and others "mom shaming" the TikToker.
"[A]wwwwwwww this is what breaks my heart," one commenter wrote. "[K]ids should be able to be kids without having to think so much."
Though other commenters read the situation in another way.
"Moms fault. You know the rules. Should've told her & stopped her. You made the cast member the bad guy," one commenter said.
Reeves told Newsweek she does hope Disney will take some of the feedback shared below her video into consideration after many shared hesitation about bringing their own children to a Disney park if they would be met with similar treatment.
Reeves said she and her family had a great time and did not let the one moment impact that.
"We got her ice cream and a balloon and boom she forgot about the whole thing," Reeves said.
Newsweek contacted Disney World and Disneyland for comment.