Video of Giuliani's Shouting Match With 'Jackass' at Parade Tops 242K Views
A video of Rudy Giuliani squabbling with a heckler he called a "jackass" at a New York parade on Sunday topped 242,000 views on Twitter as social media users flocked to witness the former New York City mayor's shouting match.
The footage was captured Sunday at the JCRC-NY Celebrate Israel Parade by Jacob Kornbluh, senior political reporter with The Forward, who released it on his Twitter account around 1 p.m.
By early evening, it had more than 242,000 views.
"You are a jackass...You are a brainwashed a**hole," Giuliani could be heard saying in the video.
In Kornbluh's tweet, he identified the person being shouted out by Giuliani as a Democrat.
"Marching behind Mayor Adams is @RudyGiuliani who gets into a shouting match with a Democrat," Kornbluh wrote.
One of Giuliani's insults centered on the president.
"You are probably as demented as Biden," he could also be heard saying.
With all the shouting, it's unclear in the 34-second video what people had yelled to provoke Giuliani's response, which also included a reference to his time as mayor.
"I reduced crime you jackass!" Giuliani said.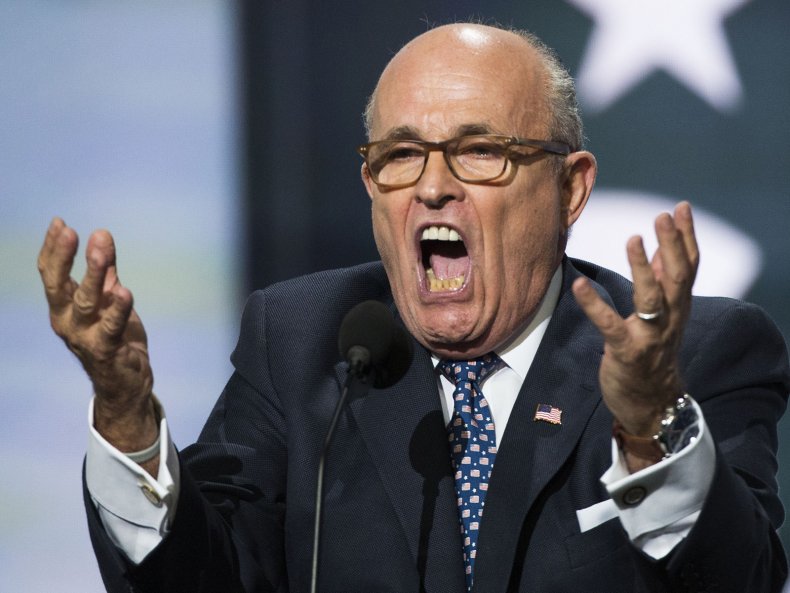 Sunday's parade, described by the Jewish Community Relations Council as "the world's largest expression of solidarity with the Jewish state," had more than 40,000 participants in its first return in three years.
Giuliani's tiff with the parade goers follows his testimony Friday to the January 6 House Select Committee.
A lawyer for then-President Donald Trump, Giuliani participated in a virtual meeting with the committee, which is investigating the Jan. 6, 2021, U.S. Capitol insurrection, the Associated Press reported Saturday, citing an anonymous source.
The meeting, according to the source described as "a person familiar with the interview," was held for most of the day. The AP reported a committee spokesperson declined to provide comment.
Along with other members of Trump's legal team, Giuliani had been subpoenaed by the committee in January as it sought information regarding efforts to overturn the 2020 presidential election results, according to the AP.
In headlines earlier this year, Giuliani caused some controversy when he was revealed as a costumed contestant on The Masked Singer on April 20.
Ken Jeong, a judge on the show, walked off the stage at the reveal, saying he felt "disrespected" and "livid." The audience also looked stunned.
Jeong exited the stage as Giuliani sang "Bad to the Bone," saying, "I'm done."
On Tuesday, a Fox Entertainment executive criticized the media, saying outlets "spoiled" his controversial appearance on the show after Deadline reported his anticipated appearance in February.
Newsweek reached out to Giuliani for comment.