A woman in New York City thinks she might have gotten her hands on two original pieces by street artist Banksy for just $60 each.
The woman, who posted the username @colalex and is named Colleen, took to TikTok to explain the experience she claimed occurred over about 45 minutes. On her usual commute home from work, which involves transferring trains at the 14th Street station in Manhattan, she came across a series of Banksy-looking paintings protected only by a single strip of caution tape.
In 2013, the famously anonymous artist set up a stall in Central Park where an unidentified man was selling the original pieces for $60 apiece. BBC reported that those same pieces were actually worth up to £20,000 each at the time.
Before stumbling upon the paintings, Colleensaid her eyes did catch a man standing about 500 feet away who was wearing layers of clothing and had his face covered almost entirely by a ski mask but he did not seem to be associated with the paintings at first.
One of the paintings had the message "cash or bitcoin only, this is not a photo opportunity" written on them, something Collee recognized as being a clue that these might be Banksy originals.
Since she did not have cash or bitcoin, she resumed her commute though she said her stomach ached as she approached her stop. When she exited the train she said it felt like she had to make a big decision. She took money out from a nearby ATM and returned to the train.
When she returned, shortly before 10 p.m. on November 16, she said there was more of a crowd gathered than when she had initially seen the display though still, no one around that looked to be in charge.
She stood there, with her cash in hand thinking whoever was selling the pieces would soon approach her. Nothing.
After looking around a few times, she said what happened next was like "out of a spy movie."
"It felt like there should have been cameras there," she said in one of the many videos she posted to TikTok explaining her experience.
She locked eyes with the man working the nearby newsstand who she said made the "most subtle physical gesture" she had ever seen. He gestured toward the man in the ski mask.
It was then that she approached the man and asked if he was selling the paintings, his only response was a nod. Throughout their whole interaction, she said he never said a word. After asking about pricing they both walked over to the paintings where she picked the two she wanted. She paid $60 for each piece of art.
As previously reported by Newsweek, pieces by the artist have sold for up to $23 million. In October, Banky's Love in the Bin piece was sold through Sotheby's auction house for $25.4 million after the piece originally made waves back in 2018 when moments after being purchased, the piece of art dropped through its frame and the bottom half was shredded, USA TODAY reported. Before being shredded, the original piece was named Girl With Balloon.
At one point, Colleen said, another person in a ski mask approached as if to "restock" the paintings that had been sold though to do so, the person "violently" threw the new additions to the ground. She said though the moment at first was a clue that maybe the whole thing was a ruse, or a random vendor selling fake paintings, she then had another thought.
"I was like 'who would treat a Banksy painting like that?' and then I was like, 'you know who would do that? Banksy'," she said.
She said though she didn't know if they were real, that was not the point.
"The point was this excitement that I had," she said.
As she began to walk away with her photos, the original person in a ski mask silently stopped her to take a photo of the serial numbers printed on the back. Afterwards, he took a photo of Colleen holding up her two new works of art. Later, she said, that would become another clue indicating that this might have been a legitimate sale.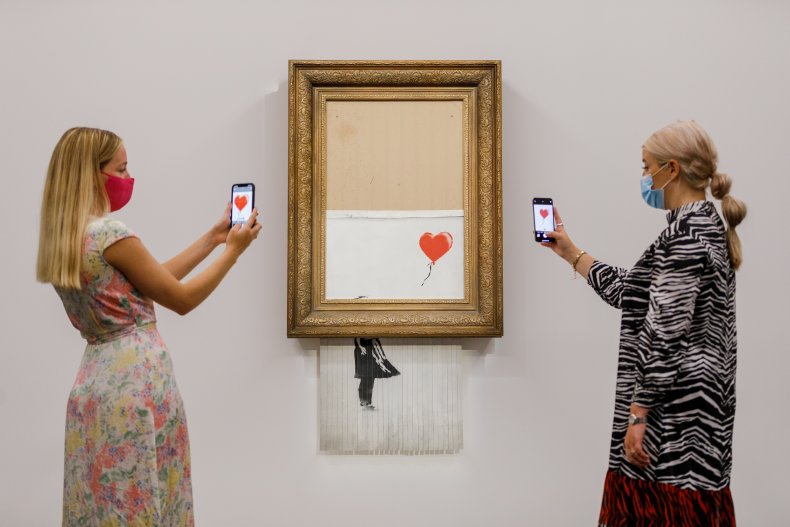 On the sole website authorized to authenticate Banksy works, Pest Control, they ask for a photo of the buyer holding up the pieces they want to be authenticated. She said the photo the man took might be to cross-reference later.
The website says that submitting a screenprint for authentication costs £50 + VAT, while submitting an original will cost double. The buyer will not be charged if the art is found to be fake.
Newsweek contacted Pest Control, but they did not respond to a request for comment.
For now, Colleen said, she is in no rush to authenticate the pieces and for now, is just "living in the experience of being excited about them maybe being real."
"I'm not trying to avoid knowing if they are authentic or not," she said. "I am purposely, actively, making the choice to live in the moment of not knowing at least for a little while because it's exciting and it's fun and I don't think I owe it to anybody to let you guys know if they're authentic or not, it was about the experience."
In fact, she said she may not ever seek to find out their authenticity.
Colleen told Newsweekin an email that she initially decided to film her experience because she wanted to remember as many details as possible, in part, in case she did decide to go through the authentication process. She noted that the process requires providing a lot of information about how the person came to acquire the paintings.
As the views continue to pour in, Colleen says she is shocked by the response the video has received as well as the compassion and encouragement expressed by viewers.
"I am touched that so many people resonate with my excitement," Colleen told Newsweek. "One TikTok commenter summarized that it is rare as an adult to have moments of such childlike wonder, and I couldn't agree more."
Updated 11/22/21, 4:30 p.m. ET: This story has been updated to include comments from @colalex as well as her first name, Colleen.