Video: Grandfather Tries to Film Marriage Proposal but Just Records Himself Instead
The sun is setting, the mood is right, the scenery is stunning. But most importantly, you remembered the ring. You're about to propose to your girlfriend in what will be one of the most special moments of your life.
So the camera is handed to a trusty grandpa nearby, tasked with doing the honors as you bend the knee. Only, that grandpa makes a crucial mistake—he holds the camera the wrong way around.
The result of the above real-life incident back in June is both a touching and hilarious video that has gone viral. It shows 71-year-old John Hart's pure joy at watching that stranger, called Christopher, propose to his girlfriend on the Sandia Peak Tramway in Albuquerque, New Mexico.
"It was quite a mistake but I guess it put a smile on a lot of people's faces," Hart told ABC's Good Morning America Wednesday. "So that's a good thing."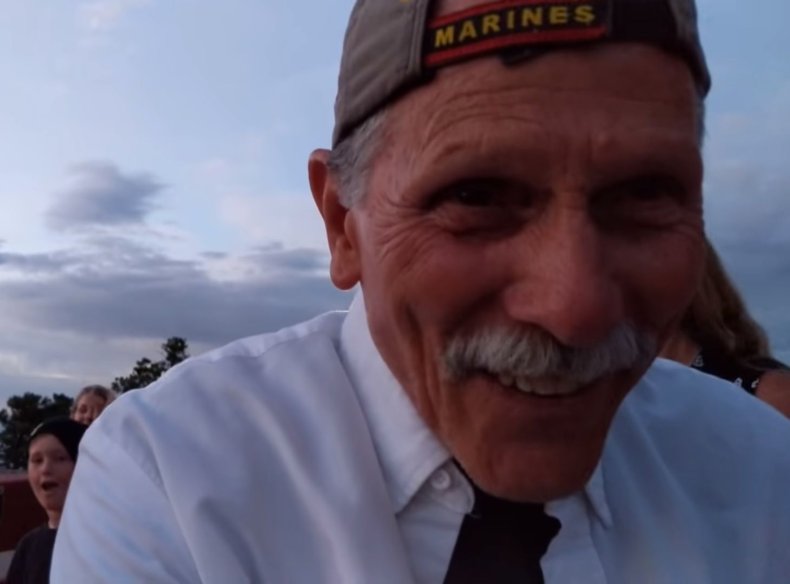 Hart is a grandfather of seven who was visiting family in the area. The camera was first handed to Jayce Flauding, whose partner's son is Hart's grandson. But his hands were full, so he passed the camera to Hart, a former photographer in the U.S. Navy.
Hart had mentioned to Christopher before all this happened that he should propose to his girlfriend, without knowing that was the plan.
"Oh that's so cool. Woohoo," Hart says to the camera, without realizing he is filming himself instead of the proposal. "Christopher I didn't know it was gonna happen but I sure said something."
"I wanted to tell you so bad, I really did," Christopher replies.
"Give her that ring and...give her the biggest smile, man. That's so beautiful," Hart says.
Then others fall about laughing when they realize what Hart has just done. "Oh god, you turkey. Oh man," Hart says.
"It's so rare to capture such a genuine moment of happiness from the opposite angle," Flauding told Good Morning America. "Typically, we see the proposal and not the people watching it. I'm very happy that grandpa recorded himself and was willing to share it with the world."
Flauding had uploaded the footage to YouTube and it gathered attention. Now he is trying to find the couple, whose full names they do not know.
"He thought he was filming the proposal the whole time but all we saw on playback was a genuine, heartfelt reaction to the proposal itself—he had the phone backwards!" Flauding wrote on YouTube. "Awesome video. Once we realized what happened we all had a good laugh."
Watch the video here: