Fascinating Video Shows 12-Foot-Long Great White Shark Called 'Ironbound' Getting Tagged by Scientists
Non-profit OCEARCH has released a fascinating video showing its researchers tagging a fearsome great white shark in the waters off West Ironbound Island, Nova Scotia, Canada.
OCEARCH has been catching sharks along the North American east coast and other regions for several years for research purposes. But the animal featured in the video proved to be one of the toughest sharks the team had ever come across.
"Our Fishing Master Captain Brett McBride said that [this] was one of the toughest sharks he has seen, especially considering [its] size," OCEARCH Expedition Leader Chris Fischer told Newsweek. "At 12 foot, 4 inches and right about 1,000 pounds, [it] fought like some of the much bigger sharks we've encountered in places like Guadalupe Island, Mexico and South Africa that were 15 feet long or more."
The OCEARCH team decided to name the animal after the island where they have spent nearly two years catching sharks.
"We've been holding on to a name," Fischer said in the video. "[West Ironbound Island] is an awesome place, it is a serious place—and we've been waiting for a shark that had that same kind of awesomeness and seriousness and attitude. We're gonna name this beautiful male 'Ironbound.'"
Lifting sharks up onto the OCEARCH research vessel is a tricky process.
The first step is to lure the shark in using a modified drumline— a type of aquatic trap. The fishing team then quickly attaches a handline to floating buoys connected to the trap and starts guiding the shark back to the M/V OCEARCH, which has a submersible platform hanging off the side.
Once the animal is on the platform, McBride actually jumps into the water with the animal to ensure that the shark can be lifted onto the vessel safely
"Once the fishing team gets the shark in tow, the shark goes into a state called 'learned helplessness.' Basically the shark knows it can't get away so it basically gives up. After that it's kind of like walking a dog," Fischer said.
"We've worked for years on this technique in order to dramatically decrease fight times, which cuts way back on the shark's stress," he said. "Every part of the process is meticulously designed to be a safe as possible for the shark and we are always striving to find ways to make it even better."
After being lifted onto the ship, the team keep the shark alive by pouring seawater over the animal's gills so it can breathe. The scientists then tag the shark with a monitoring device, and conduct various tests.
"We take a variety of samples including, but not limited to, blood samples, semen samples, muscles samples, bacteria samples, fecal samples and much more," Fischer said. "The samples are used to support 32 researchers from 22 different institutions working on 18 separate research projects around the continent."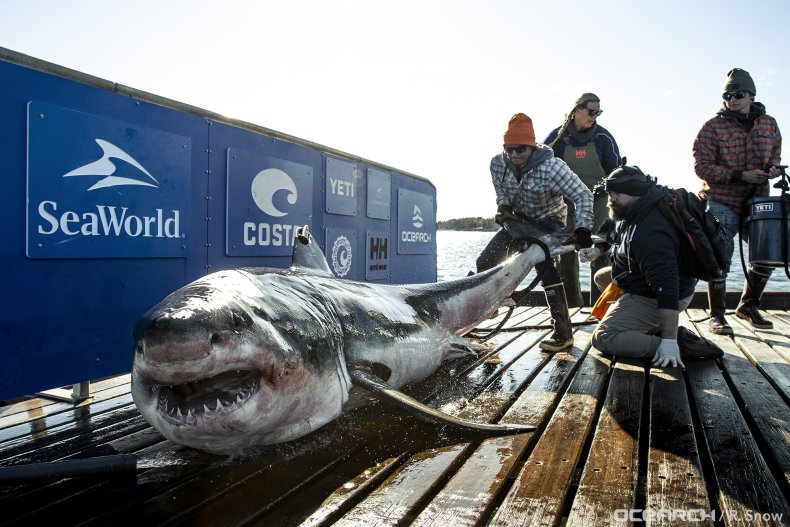 After the tests have been conducted, the researchers lower the shark back into the water and allow it to swim off.
"We're able to get even tough sharks back off the M/V OCEARCH in less than 30 minutes," Fischer said.
OCEARCH's tracking data over the years has revealed fascinating insights into the behavior of great whites off the North American coast.
"We started tagging sharks in 2007 and have worked all around the world since then, making many discoveries along the way," Fischer said. "One of the most exciting recent discoveries that we are still learning more about is just how important Canada is to Northwest Atlantic white sharks."
"For years it has been known that places like Cape Cod are fall hotspots for white sharks, but Canada was never really on anyone's radar. But two expeditions to Nova Scotia have showed us that something very special is happening up there. There are way more white sharks than anyone previously suspected," he said. "Now we're drilling down and trying to understand how they are utilizing Canadian waters and whether or not there are two sub-populations of white sharks in the Northwest Atlantic."
Another important finding, according to Fischer, is that there is a great white shark nursery off the coast of Long Island.
"These nurseries are where white sharks give birth and where white shark pups are most vulnerable and need the most protection," he said.