Video: Guard Threatens to Detain Activist Recording Conditions at Miami ICE Facility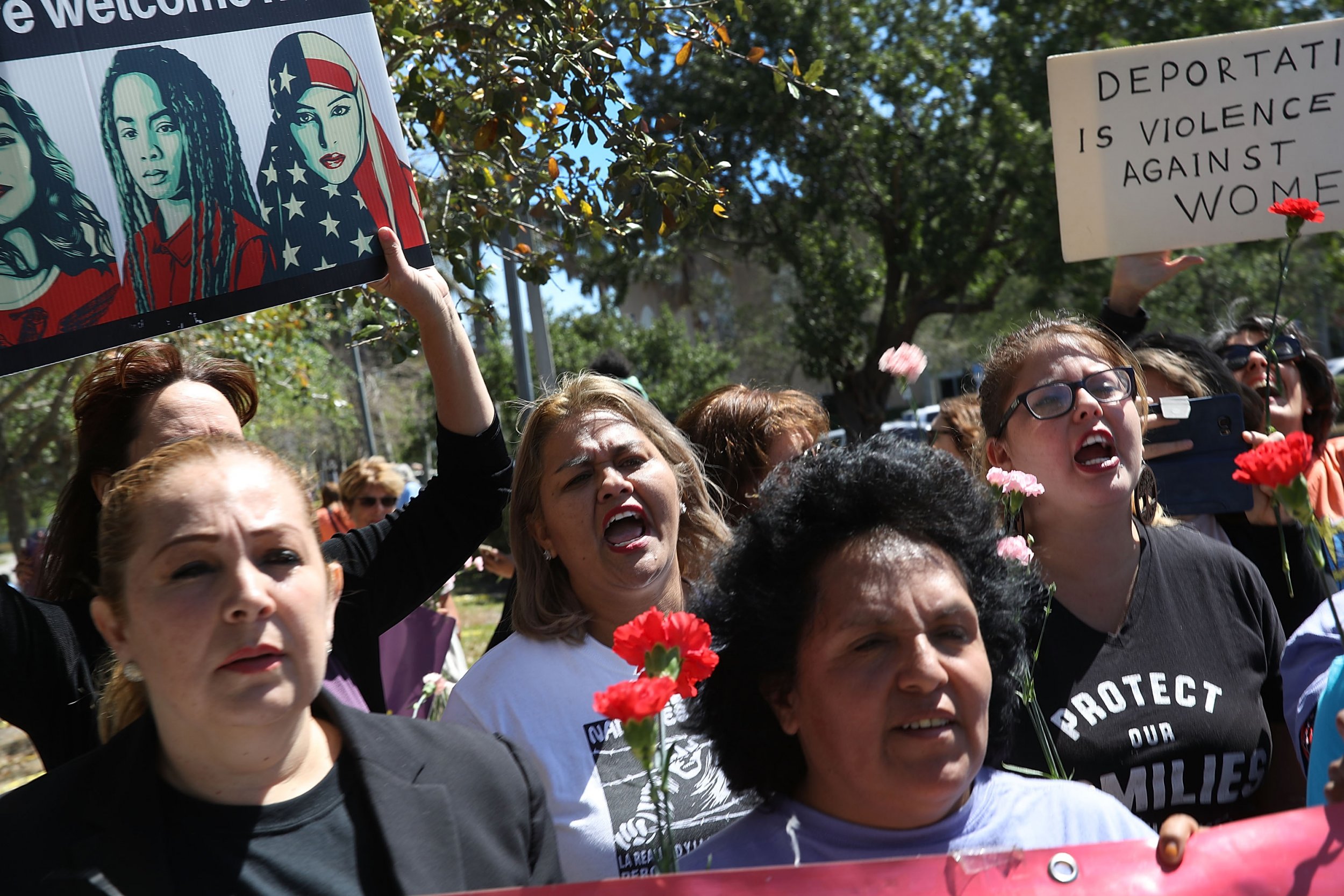 Video posted to social media appears to show a guard stationed outside an Immigration and Customs Enforcement facility just outside Miami threatening to detain an activist for filming conditions outside the building.
The footage, shared to Facebook by local organizer Maria Asuncion Bilbao, shows a line of people waiting outside the ICE facility in Miramar, which is just 22 miles north of Miami.
The activist claims people, including small children and the elderly, are being forced to continually wait for hours each day in the heat and rain for routine ICE check-ins only to be detained at their meetings by agents, despite city officials recently demanding that ICE stop the "alleged ill treatment" of people "visiting the facility."
As Bilbao films, a security guard's voice can be heard saying: "You take a picture, you send it to the news, people can't stay here like that."
Then, a guard can be seen walking up to the activist saying, "Ma'am, we've told you plenty of times that you're on government property, you cannot be on this property," as he pulls out a pair of handcuffs.
"Are you going to arrest me?" Bilbao asks.
The guard admits that he does not have the "authority to arrest" but says, "I have the authority to detain," adding that he is "not a police officer."
Bilbao starts to back away, saying "you are treating me to arrest me" and "I don't want you arresting me."
In an interview with the Miami New Times, Bilbao said "this is not the first time they've done that... but it is the first time he showed me handcuffs, so I was scared."
Still, she said, "they aren't going to intimidate us. We were on the sidewalk and the ACLU has told us that's public and we have a right to be there."
ICE spokesperson Bryan Cox said the agency does not control security at the facility, explaining that the Federal Protective Service hires independent security contractors.
However, Cox, defened the security guard's actions, saying: "In the video I just saw the security person never got closer than 40 feet and instructed them to move across the street where they were welcome to film from public property."
"At no point was anyone approached nor stopped from filming during the brief interaction around the 17-minute mark," he said, adding: "From what I just watched I fail to see how any fair-minded person could describe that situation as a person being threatened."
Still, the activist has not been the only one to complain about conditions at the ICE facility.
Miramar's city commission recently passed a resolution demanding that ICE stop mistreating people on the property.
The resolution states that the city is disappointed with the "alleged ill treatment of persons visiting the facility, including lack of restroom facilities, shelter from the elements and adequate sitting and waiting areas."
It requested that ICE "provide additional parking and improve the facility by adding adequate facilities, shelter and sitting and waiting areas to accommodate the volume of patrons visiting the facility daily."
Cox said ICE "is actively coordinating with the lessor and GSA to upgrade conditions at the Miramar sub-office."
He said restroom signs have been made and posted and said ICE is looking into adding drinking fountains outside of the building for visitors, but added that there are fountains available inside.
He said that "while we maintain that providing visitor parking is not ICE's responsibility, ICE HQ is actively working with GSA to obtain additional visitor parking."
This story has been updated to include comments from the Immigration and Customs Enforcement agency.