Video: Watch Heartwarming Moment Pink Stops Concert to Hug Teenage Fan Whose Mom Died
Footage has emerged of world renowned pop star Pink abruptly stopping a concert—so that she can hug a 14-year-old fan grieving her mother.
During her performance in Brisbane, Australia, as part of her Beautiful Trauma tour, Pink spotted a sign in the crowd from Leah Murphy which read: "I lost my beautiful Mum last month. I would LOVE a hug… Please!" The teenager from Townsville told Brisbane paper The Courier Mail that the gesture "meant everything" to her.
"It was a dream come true," Leah said. "Pink read our sign and straight away said where's Leah? She came down the stairs and gave me a big, long hug. She told me that I looked pretty. She said 'oh don't cry'. She said that everything was going to be OK. Then she signed my arm and we took a selfie."
The video, which was uploaded to Facebook by Leah's aunty Katrina Donkin, shows Pink embracing Leah and signing her arm. Pink has two children of her own. "Everyone call your mum," Pink told the crowd after returning to the stage.
Leah's mother, Debbie, bought tickets to Pink's Sydney show but died in June, two months before the concert took place. Leah had planned to use her mother's ticket, but Pink was forced to cancel the show following a spate of medical problems. She was ultimately diagnosed with a gastric virus and had to cancel several planned concerts.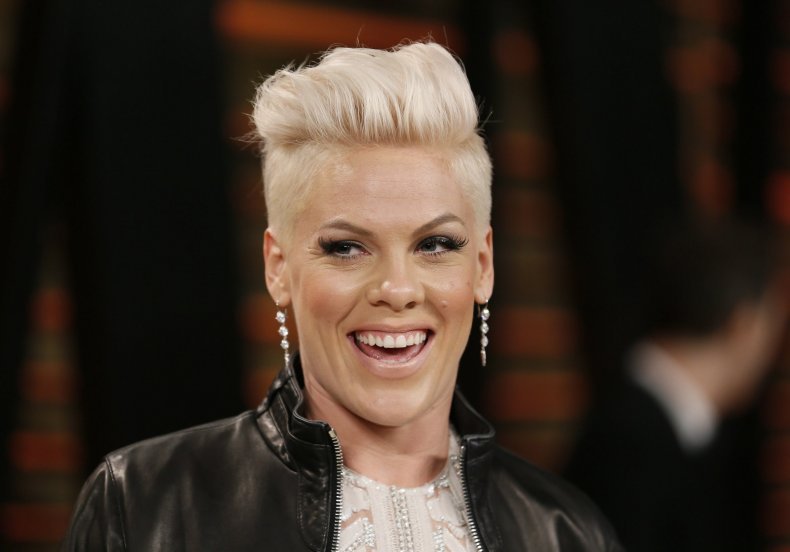 "When mum bought tickets to Pink she downloaded all her songs and we would play it on the speaker really loud and dance and sing around the house," Leah said. "I also said to Pink how much mum loved her."
Before the Brisbane concert, Donkin came to the rescue and managed to find last minute tickets. "We couldn't believe it worked," Donkin told The Courier Mail. "She hugged her so tight Leah cried. It was so beautiful and so meaningful. We think her mum sent her a hug from heaven."
According to a Facebook post, the trip nearly fell through when Donkin mistakenly left the tickets behind after flying from Cairns to Brisbane. She posted on Facebook that it was "probably my biggest f*** it of all time".
According to ABC Australia, Leah's father said he had not seen her smile so much since. "Her dad said he woke up feeling happy today, happier than he has been in a long time," Donkin said.
Video: Watch Heartwarming Moment Pink Stops Concert to Hug Teenage Fan Whose Mom Died | World