Video: Henry Kissinger Told to 'Rot in Hell' by Heckler During NYU Speech
Forty-five years after being handed the Nobel Peace Prize for his role in negotiating a ceasefire in Vietnam, former U.S. Secretary of State Henry Kissinger cannot escape the calls of those demanding that he be prosecuted for alleged "war crimes."
On Tuesday, the foreign policy leader was branded a "war criminal" and told to "rot in hell" by at least one heckler while delivering a talk at New York University's Stern School of Business, in an exchange that was caught on video and posted to social media.
"Are you telling me that you're not a war criminal? That you do not deserve to go to jail for the crimes that you've enacted?" a crowd member can be heard saying in video of the incident, as other crowd members appear to boo. It is unclear whether they are booing Kissinger or the protester.
"You deserve to answer to war crimes, to crimes against humanity," the heckler continues. "You deserve to go to jail and then rot in hell," she shouts, as a security guard appears to warn her that she will be "arrested."
"You have enacted crimes against Chile, against Argentina, against Cambodia, against Vietnam," the protester yells. "You are a war criminal and you deserve to rot."
Sharing video of Kissinger's talk being disrupted by a heckler, journalist Glenn Greenwald commented that the former secretary of state was "being treated far more politely and with far greater civility...than he deserves."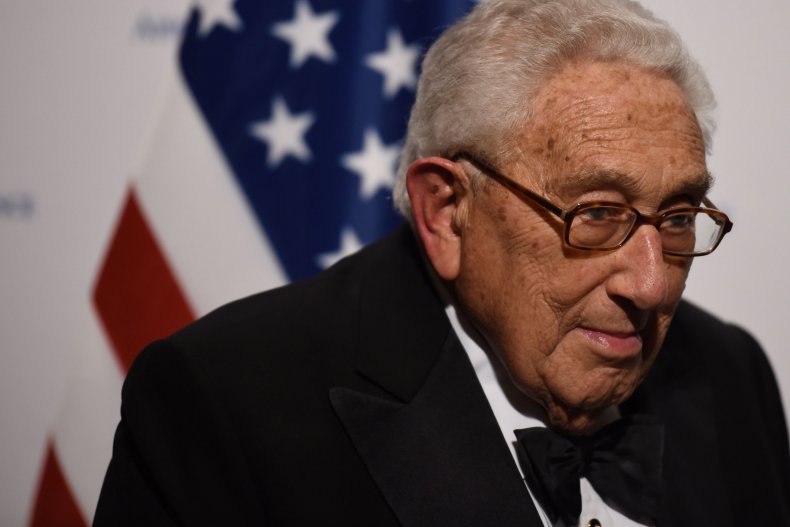 Kissinger has long faced accusations of being a war criminal over his role in the bombing of Cambodia and North Vietnam, as well as for the part he played in helping orchestrate the overthrow of the democratically elected Chilean president Saldavor Allende.
In 1973, Kissinger was jointly awarded the Nobel Peace Prize with North Vietnam's Le Duc Tho for their roles in negotiating a ceasefire in Vietnam.
Tho rejected the award, refusing to share it with the former secretary of state, while Kissinger has faced decades of criticism over his decision to accept it, despite the fact that the Vietnam War did not reach its conclusion until April 1975.
According to the Washington Square News, NYU's independent student newspaper, Kissinger's appearance on Tuesday was interrupted a total of four times by hecklers, while around 100 protesters gathered outside the talk, holding signs with messages including: "Prosecute Kissinger" and "Drive out war criminal Henry Kissinger!"
Others shouted slogans, yelling: "Hey, Kissinger, what do you say? How many kids have you killed today?" according to the student newspaper.
When students at NYU learned that the former secretary of state would be delivering a talk at the school, nearly 30 student groups, including NYU Against Fascism and Amnesty International at NYU signed a letter demanding that the event be canceled.
"For over half a century, Henry Kissinger has stood as the morally reprehensible poster child of U.S. militarism and imperialism," the letter states.
"Far from being the renowned master practitioner of international affairs that institutions like NYU Stern portray him as, Mr. Kissinger has left a legacy of economic devastation, physical destruction, violence, human misery, and death His greatest contributions to U.S. history are those of illegal bombing campaigns, failed military threats, direct involvement in coups and support for dictatorships, and the elongation of devastating, bloody wars for his own political gain," it says, accusing Kissinger of being "the architect of programs which were responsible for the deaths of hundreds of thousands of people, the destabilization of several nations, and the enabling of brutal, genocidal regimes."
"Millions of people, particularly in Southeast Asia, continue to suffer to this day due to actions carried out by Henry Kissinger. He leaves behind a legacy of decisions and policies so violent and horrific that any acknowledgement, or validation of him by NYU is an indefensible act at odds with the values NYU claims to represent and the values of the NYU student body and faculty at large," the letter adds.
NYU's Stern School of Business has not immediately responded to a request for comment from Newsweek.
Video: Henry Kissinger Told to 'Rot in Hell' by Heckler During NYU Speech | U.S.