Video of High School Sweethearts' Adorable Wedding Proposal Goes Viral
A TikTok video has gone viral after a woman shared a clip of her recent wedding proposal to her high school sweetheart.
@Averyaveragestudent, whose first name is Avery, posted the adorable moment in a TikTok video that has now been viewed over 1.6 million times. Avery and her now fiancé Jared also have a YouTube channel with videos about their lives.
The early January proposal marks the newest milestone in the high school sweethearts' relationship.
In 2016, The New York Times asked couples who met in high school how they made their love last.
Andi and Mark Farmer met in sixth grade, the Times reported, but did not start dating until 10th grade. When asked to share some advice, Andi said "communication."
"If you don't say what's bothering you, it won't get better. You also can't just say what's bothering you and what's bad. You have to say what's good, too. You also have to make sure to pay attention to your relationship and not take the other person for granted," she told the Times.
Lindsey and Alexander Grays told the paper that though they broke up for some time during college it did not take long for them to reunite after graduation.
Lindsey said being able to watch the other grow as well as grow together is a "special opportunity."
Avery told Newsweek in an email that she and Jared have been together for five years—since their sophomore year of high school.
In Avery's video, she first shows a clip from a YouTube video of the proposal in which Jared shows the back of his T-shirt reads "That's my fiancée!!" after popping the question.
While that alone might warrant some "oohs" and "awws" what makes moment more sentimental is that the T-shirt is more than just a T-shirt.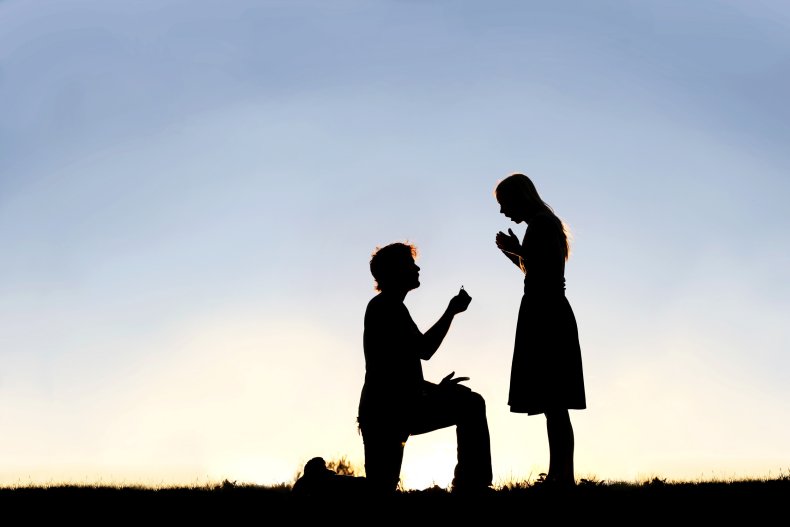 Avery splices the video together with footage from her high school basketball game where as the crowd cheers, the camera pans to a high school age Jared wearing another special T-shirt.
He turns around quickly to show the words "That's my girlfriend!! #14"
Commenters on the TikTok video could not get enough of the thoughtful detail.
"[I]f he doesn't have a t shirt under his wedding tux that says that's my wife," one commenter wrote.
"[H]ow cute!!!" another person wrote. "What did you search on Amazon to find him?"
In the longer video posted to the couple's YouTube channel, Jared explains that the whole proposal was a surprise. With the help of both he and Avery's families they were able to get Avery to Idaho—where they had talked about getting engaged—on false pretenses, to surprise her with the big question.
Avery told Newsweek that she had no idea the proposal was coming and says she is "super grateful" that the video has reached so many people.
"I really just made it for fun and because I liked having the side by side comparison to see how things have changed over the years!," she said in an email. "Seeing the love the video has gotten and reading the comments that people have to say about my Fiancé, Jared, reminds me how lucky I am to have him!"
Updated 01/31/22 4:40 p.m. ET: This story has been updated to include comments from Avery.