Video of HS Teacher's Iced Coffee Bar for Students Viewed 2.4M Times
A high school teacher is melting hearts with her iced coffee bar for her students, garnering a lot of appreciation from viewers.
The viral TikTok captioned "She a barista or whatevaaaa #teachersoftiktok #fyp #AlaskaAirCAREoke #SoFiBreakUpChallenge" has been viewed 2.4 million times and liked 345,000 times since it was posted on February 11.
This comes at a time when teachers, students and parents are rallying for better treatment of educators. Teachers have left the field in large numbers, citing pandemic burnout in most cases.
One user weighed in saying all of the ingredients equated to a lot of money. "This is why teachers need to get paid more," they added. "They literally raise students into who they are."
The 16-second clip posted by high school teacher Esmeralda Ortiz, or @lamaestraortiz, started with the words displayed and said out loud: "Put together an iced coffee bar for my students." The content occurred at Morton East High School, according to comments.
The camera panned to show a table decorated in a white tablecloth and paper hearts with caramel and mocha iced coffee options presented. There was also chocolate milk, caramel syrup, and whipped cream to top it off. Cookies and juice boxes were also served.
The video showed the TikToker wearing a mask drizzling caramel syrup in a cup, and then adding ice and coffee to it. She also included whipped cream and caramel syrup on top, handing the beverage to a student while music played.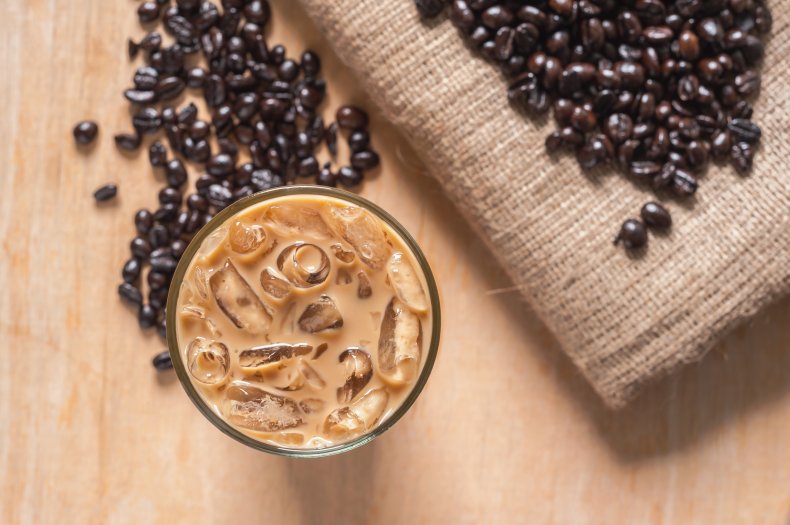 According to the National Coffee Association USA, as of 2017 the largest increase of daily consumption of coffee occurred the most in 13 to 18 years olds. Their daily intake increased to 37 percent, which is up from 31 percent in 2016.
People are praising the teacher for doing something thoughtful for her students. Over 1,900 comments came in, and the appreciation was everywhere. "Legit made me smile," a TikToker admitted. "Awesome."
Some TikTokers wished their teachers had brought in iced coffee when they were students. "I would've shown up to class every day," a viewer revealed.
The content also inspired others to do the same thing in their classrooms. "Will be doing this for sure!" a TikToker pointed out. "I'll make sure to tag you!"
While one TikToker thinks the sentiment is "so sweet," they also added that "caffeine isn't for kids Lol. You never know how their bodies will react."
A viewer brought up their own point, insisting some of the students "have hard home lives." They also said, "This is so sweet. Extra kindness in class goes a long way."
"Where were these types of teachers when I was in school?" a user asked.
Kind words came in for the teacher who brought in iced coffee for her students to enjoy. "If only teachers were this chill," a user pointed out. "Best teacher award goes to you!"
Other comments included, "This is so sweet, I love this," and "This made me cry."
Newsweek reached out to Ortiz for comment. She told Newsweek: "The coffee bar was a huge success in my classroom and for my students. Another teacher at my school had a hot chocolate bar, and it really inspired me to do something that I knew my students would enjoy. Very often, almost daily, my students come into school with Dunkin' Donuts or Starbucks coffee, so I know they have a love for coffee."
Ortiz also noted they spent the first minutes of class preparing the drinks, then they went on with the lesson for the day. "I noticed my students were more engaged, and the classroom seemed much more active and happy," she said. "I wish to continue giving back to my students for all of their hard work throughout the year."