Video of Hu Jintao Pulled From CCP Congress 'Chilling': Ex-NATO Commander
Former NATO Supreme Allied Commander James Stavridis said Saturday that a video showing former Chinese President Hu Jintao being forcibly removed from the Chinese Communist Party's (CCP) 20th National Congress was "chilling."
Video posted to social media showed Hu, who served as China's president from 2003 to 2013 and seated next to current President Xi Jinping, being escorted out of the CCP's closing ceremony on Saturday. The video shows a man repeatedly pull Hu from his seat, who appears to try to grab a piece of paper in front of Xi. However, Xi places his hand on it.
Hu, while being removed from the congress, appeared to exchange words with the Chinese leader. Much about the situation, including what specifically prompted Hu's removal, remains unknown.
Many on social media have speculated that Xi may have had Hu removed to assert his authority ahead of his anticipated reconfirmation at the CCP's general secretary this weekend.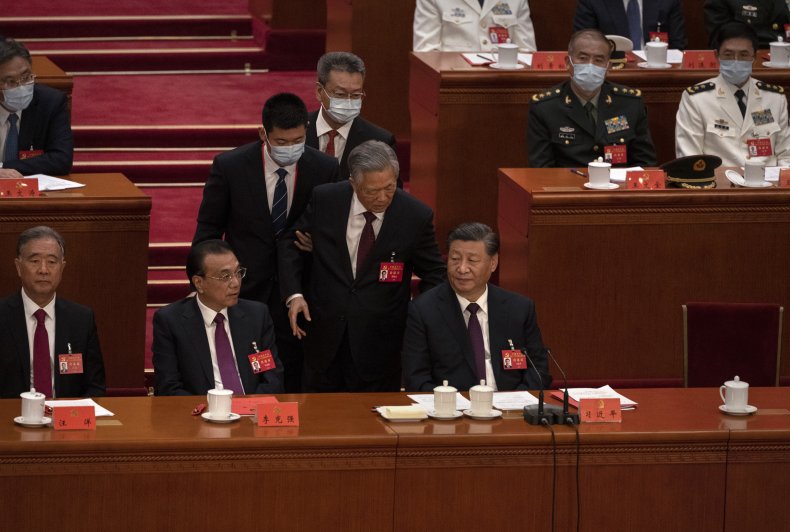 Stavridis, who served as the NATO's Supreme Allied Commander Europe from 2009 to 2013, shared his concerns about the video on Twitter.
"Watch this chilling and Orwellian scene," he tweeted. "Hu gets heave ho. Xi you later Hu."
Meanwhile, other experts also weighed in on the video.
"What on earth is going on when the former leader of #China #HuJintao is told to leave after the first session? When you look at the footage it appears as if he doesn't want to go. What does he say to #XiJinping? What does he say to #LiKeqiang?" tweeted Stephen McDonell, BBC's China reporter.
"Given how carefully choreographed this stuff is in China, this is very unusual and high drama as far as Chinese politics is concerned," journalist Melissa Chan tweeted. "It is too early to speculate what the hell just happened. Best case scenario is Hu was not feeling well."
The video spread across Twitter and was viewed approximately 4 million times. However, Reuters reported that the video had been removed from China's social media platforms, including Weibo, which are censored by the government. State media did not mention Hu's removal while reporting on the ceremony, according to Reuters.
The ceremony comes as Xi is set to begin his third term as China's president, breaking from precedent. Experts viewed the ceremony as cementing Xi's power and legacy, extending his leadership another five years. First rising to his leadership role in 2012, he has spent the past decade consolidating support within the CCP.
It also comes at a tumultuous time for China's international relations. China has found itself as perhaps Russia's most powerful ally amid Moscow's flailing invasion of Ukraine. Tensions between China and Taiwan have also flared in recent months, raising concerns of an escalated conflict as the United States has pledged to forge deeper ties with the disputed island.
Newsweek reached out to China's foreign press office for comment.