A natural-gas pipeline caught fire near the southern Russian city of Saratov on Thursday, prompting a major fire of around 5 acres in size.
Local authorities reported no injuries from the fire at the Peschany Umyot-Storozhevka pipeline, located around 528 miles southeast of Moscow, Reuters reported.
Russia's state-owned RIA Novosti outlet reported that the incident occurred at about 7:40 a.m. local time. It led to a fire that ignited around 5 acres—roughly the size of a football field—near the village of Krasny Oktyabr in the Saratov area.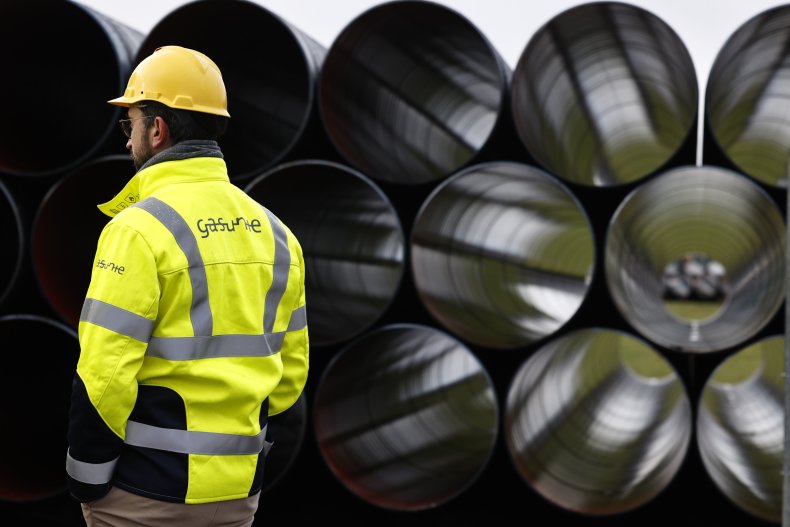 The cause of the fire, RIA said, was depressurization igniting part of the pipeline. There were no casualties, local authorities confirmed. Videos and photos of the incident published by the Russian Sirena news outlet on Telegram showed balls of fire and plumes of smoke in a field close to a highway.
Yuri Yurin, the head of the regional emergency response department, wrote on Telegram that he was dispatched to the scene by Saratov Governor Roman Viktorovich Busargin. "Depressurization occurred on an underground gas pipeline," Yurin wrote.
"I'm in place now. The open burning of the gas pipeline has been eliminated. A grass fire occurred over an area of 2 hectares," Yurin added. "There were no casualties. Gas supply is not intended for public consumption. All emergency services are on site. All circumstances of the incident are being clarified."
A photo posted by Yurin from the scene showed the damaged pipeline and a small fire still burning next to it. Newsweek has contacted the pipeline operator, Gazprom Transgaz Saratov, by email to request comment.
It is unclear whether the pipeline fire will cause the disruption of regional energy supplies or exports from southern Russian ports. Areas of southern Russia have already been facing fuel shortages and delayed deliveries in recent months.
Russia is expecting westward natural gas exports to fall this year amid European Union sanctions. There has been a broader effort by Western nations to diversify away from Russian energy imports, part of their collective response to the Kremlin's full-scale invasion of Ukraine.
Reuters, citing a Moscow government document, reported last week that the Russian pipeline gas price for Turkey and Europe—demand for which has dropped significantly since February 2022—is projected to decline this year to $501.6 per 1,000 cubic meters, and $481.7 in 2024 from $983.8 in 2022.
The price will be lower for exports to China, currently standing at $297.3 and expected to fall to $271.6 in 2024. China has been a key and growing market for Russia amid Western sanctions, taking up a significant portion of the slack left by Western diversification away from Moscow's exports.
The domestic oil situation is particularly pressing, despite Russia's status as one of the world's top producers of crude. In May, Reuters noted that Moscow was considering a gasoline export ban in the face of rising prices and domestic fuel shortages.
And in August, the news agency reported that Russian southern mainland regions were grappling with rising fuel prices amid the demands of harvest season. The fluctuation, it said, was being driven by a combination of factors including maintenance at oil refineries, infrastructure pressures on railways, and the falling price of the ruble prompting more exports.