An Australian fisherman feared he was "probably going to die" when a giant 13-foot-long great white shark began circling his kayak on Saturday.
"I just looked next to me and the shark was just gliding past, looking straight at me," Matthew Smith told 9 News after the close encounter, around a mile from Black Head Beach, in New South Wales, on the east coast of Australia.
"I did think that I was probably going to die," added Smith, who captured it all on video from his kayak.
The incident was also captured by a drone that his friend was controlling overhead.
His friend Nick O'Brien was forced to watch the potentially fatal encounter on screen from far away, as the shark circled Smith, before heading right for his bright green boat.
"I just sort of started worrying, thinking, oh, hopefully this goes alright," O'Brien said.
The shark appeared curious about the kayak's sea anchor, Smith said, explaining that he quickly made the decision to dump that kit into the sea.
Fortunately, the enormous predator—possibly put off by the sound of the drone overhead—thought better of having a bite of Smith or his kayak.
Although shaken after the ordeal, Smith said he would continue fishing, only now he is going to need a bigger boat.
"The tinny [small open aluminium boat] might get wet for the next couple of weeks and the kayak might stay in the shed," said Smith.
No one in Australia was killed in a shark attack in 2019, but more people have been killed by attacks in 2020 than any other year since 1934, according to conservationists.
Seven people this year lost their lives as a result a shark encounters off the coast of Australia, with five occurring off Queensland and New South Wales, and two occurring off the south coast of Western Australia.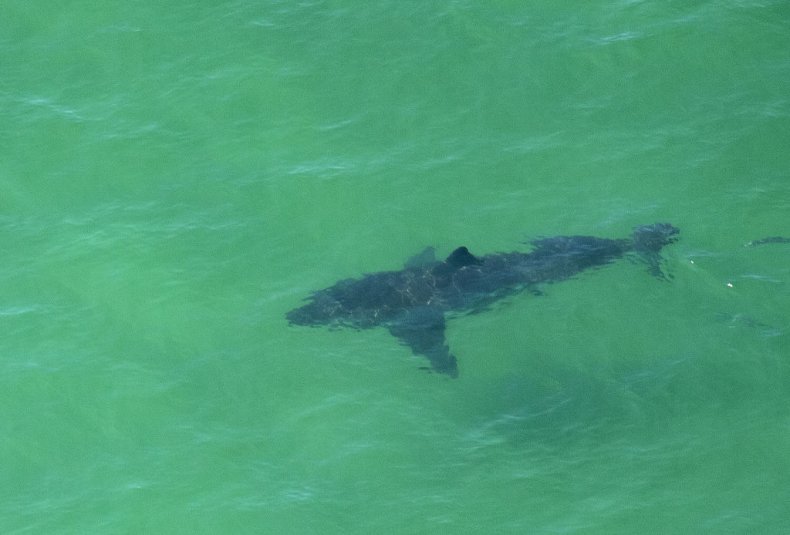 "In Australia, [this year is] a bit of a blip," Culum Brown, a professor at Macquarie University's Department of Biological Sciences in Sydney told CNN.
"And in fact the long-term average is one – one fatality per year. So seven is a long way above that, there's no doubt."
Scientists say climate change could be the reason sharks are changing their behaviour, and going in search for food sources in colder climes.
Newsweek has contacted the National Oceanic and Atmospheric Administration (NOAA) Fisheries for comment on the increase in shark attacks.