Video Shows Hundreds of College Freshmen Breaking COVID-19 Rules in Rhode Island
A video has emerged of a large congregation of students close to the University of Rhode Island on Sunday morning, just days before classes were set to start for the 2020/21 year.
The clip showed dozens of students who are reported to have gathered around the university's campus twice in the past weekend, without following social distancing guidelines or wearing a mask, WLNE-TV/ABC6 reported.
The university expects around 4,500 students to move into on-campus housing facilities in a two-week process designed to spread out the arrival of students to mitigate a potential spread of COVID-19. Classes at URI are set to start tomorrow, following Labour Day.
In a statement, the university had said in mid-August that students living on campus would be required to get tested as they arrived.
At the time of the video, shared with local news channel ABC6, around 2,500 students had moved in and five had tested positive for the coronavirus.
"It's just a little bit frustrating, I mean, I don't want to get sent home. It's only our sophomore years and we already got our freshman year taken away from us," one student told the local news source.
In-person commencement celebrations and sports competitions for the fall had already been cancelled before the arrival of students on campus.
A local executive order passed by the South Kingston Town Manager on August 28 prohibited gatherings of more than 15 people in any public or private space.
The order also noted that "violation of this executive order may be punished by a fine of five hundred dollars for anyone organizing or hosting such a gathering and a fine of two hundred fifty dollars for anyone attending such a gathering."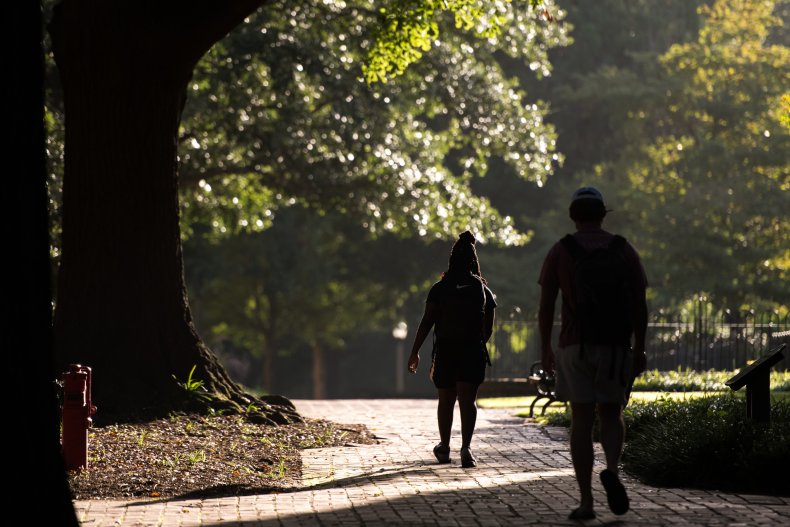 David Dooley, President of the University of Rhode Island, told ABC6 that he and his administration have a plan to prevent large gatherings at night, which he said were broken up by the University Police.
Dave Lavallee, a spokesperson for the University of Rhode Island, told the local news channel: "Those who ignore or challenge the standards the University has set to protect the health and safety of the community, run the risk of serious sanctions, including suspension and immediate removal from campus."
The University of Rhode Island has been contacted for comment.
Rhode Island has recorded 22,243 cases of coronavirus and 1,055 deaths according to the Johns Hopkins University coronavirus resource center.
The graphic below, provided by Statista, illustrates confirmed COVID-19 cases in the United States.