Video: Hurricane Florence Rescuer Saves Six Dogs Locked in Flooded Cage
Viral footage has captured the moment a heroic rescue worker saved six caged dogs from rising floodwater caused by Hurricane Florence.
The video posted by journalist Marcus DiPaola to Twitter on Sunday shows volunteer Ryan Nichols wading through floodwater in Leland, North Carolina, to reach the animals, which had been abandoned in their cage and were desperately trying to stay above the rising water, The Daily Mail reported.
"Rescued six dogs in Leland, NC, after the owner LEFT THEM locked in an outdoor cage that filled with flood water that was rapidly rising," DiPaola wrote while sharing the footage, which has now been viewed more than 1.4 million times.
'We got them out, but by the time we left, the water was so high that they would have drowned. BRING YOUR PETS WITH YOU! #HurricaneFlorence,' he added.
The dogs were standing on their hind legs and barking as Nichols approached the cage, immediately running out tails wagging into the almost shoulder-deep water when the cage door was opened.
And they were then herded towards a green area where the flooding had not yet reached, before being given bowls of food by rescuers.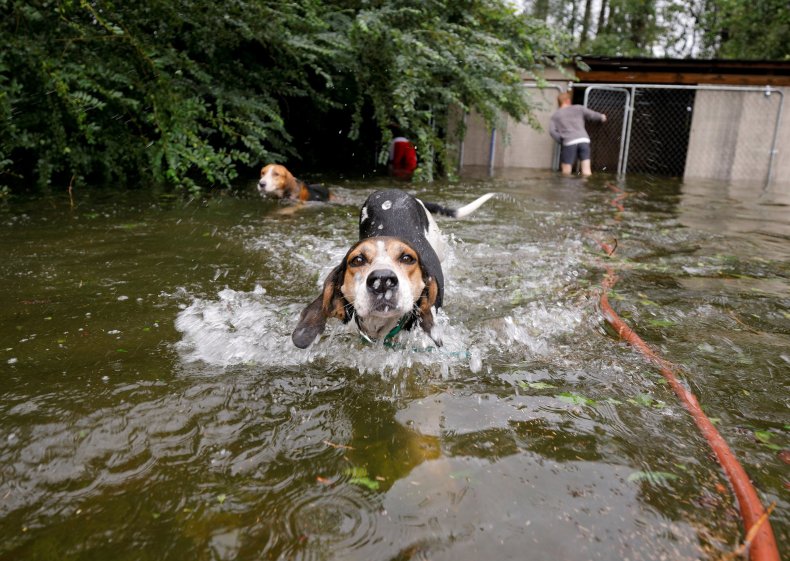 The storm and resulting flooding from Hurricane Florence has seen the number of storm-related deaths rise to 18 over the weekend, CBS reported, with more than half a million homes left without power and predictions that there will be further flash flooding.
More than 1 million people were told to flee the storm ahead of it making landfall at the end of last week, and the flooding continues to leave the affected states in a perilous position.
"The flood danger from this storm is more immediate today than when it ... made landfall 24 hours ago," North Carolina Gov. Roy Cooper warned over the weekend, CNN reported.
"We face walls of water at our coasts, along our rivers, across our farmland, in our cities and in our towns," he added.
The efforts made by rescuers and volunteers have been praised by President Donald Trump, who said ahead of the storm: "They're all ready, and we're getting tremendous accolades from politicians and the people. We are ready. But this is going to be one of the biggest ones to ever hit our country."