Video: Hurricane Lane Latest Trajectory, Timing and Wind Speed as Torrential Rain Pounds Big Island
The Category 3 cyclone Hurricane Lane has weakened, but officials have still warned Hawaii residents to brace for a storm and take shelter.
Lane, which started as a Category 5 storm, has been downgraded to Category 3, but intense rainfall is expected to trigger floods in populated areas. The island of Hawaii (often called the "Big Island") experienced Lane's force on Thursday with landslides and road closures from intense flooding. Lane is currently churning just west of the island of Hawaii, and is expected to travel farther west from there.
The hurricane will likely be at its greatest force over the next few hours and include wind speeds of up to 125 miles per hour.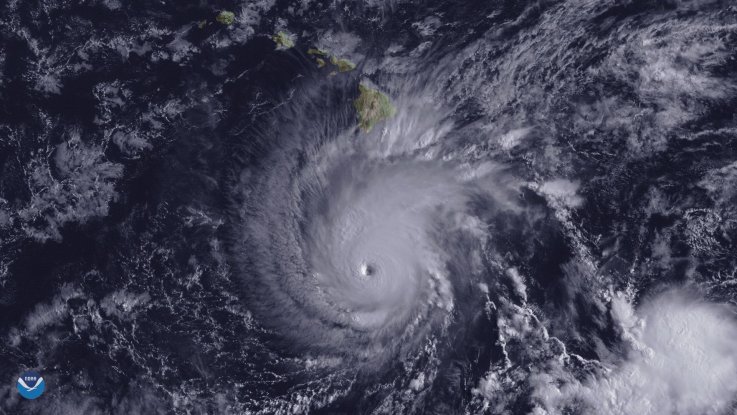 According to weather projections from Windy.com, Lane will not cross land in Hawaii (it would be the first cyclone to cross land in Hawaii in 26 years), but until it turns, officials remain cautious. It is expected to settle over the weekend or early next week.
The island of Oahu, home to the capital city of Honolulu, is still expecting heavy rain and Mayor Kirk Caldwell has warned residents to remain vigilant. "Lane, while it has been downgraded, is wide and very moist," Caldwell said, according to CNN. "It's going to hang around for a while as it moves, because it is moving slowly. And that is why we are taking so much precaution here."
Caldwell said on Twitter that sirens would sound in Honolulu on Thursday afternoon, warning people to take shelter at home. Caldwell said the sirens were meant to "reinforce the message that Oahu is under a hurricane warning" and that there is "real threat from damaging floods and the possibility of strong winds."
Up to 30 inches of rain has been forecast for the weekend and as much as 19 inches may have already fallen on Hawaii Island. Hurricane Lane is expected to be closest to Honolulu at around 8 a.m. on Saturday morning.
A video uploaded to YouTube by Jonathan Correa shows the effects Hurricane Lane has already had on Hawaii. Severe flooding can be seen across the state.
Hawaii Governor David Ige has been providing live updates on his Twitter account to inform residents of wind speeds in each area. Hawaii's public schools have been closed for the week and government employees have been told to stay home unless they are essential. Cyclones rarely cross land in Hawaii because of its small size relative to the Pacific Ocean.
Video: Hurricane Lane Latest Trajectory, Timing and Wind Speed as Torrential Rain Pounds Big Island | U.S.