Hurricane Laura Video Shows Storm Tear Roof Off Lake Charles Casino
Hurricane Laura has torn through Louisiana, decimating buildings, blowing out windows and peeling the roof off the Golden Nugget Lake Charles Hotel & Casino, which was captured on video.
WKRG posted a video of sections of the Golden Nugget exterior being torn off and blowing in the wind like paper.
The casino building affected is a beacon of the waterside area, spanning 242-acres and with more than 1,000 guest rooms in its 22-story tower.
Hundreds of thousands of homes have been left without power during the Category 4 hurricane, which experts have called an "unsurvivable storm".
The Golden Nugget casino is just one of the dystopian scenes residents in Lake Charles witnessed and are waking up to this morning. Twitter is filled with images of chaos, disaster and destroyed homes.
The Capitol One Tower had most its windows blown out, there is a chemical leak off the I-10, along with collapsed phone lines and communication towers all over town, plus a controversial confederate monument has toppled, which the local parish voted to keep.
"Hurricane Laura had other plans and brought it down herself," said Devante Lewis of the statue in a tweet.
Mandatory evacuation orders have been issued in many parts of Texas and Louisiana, but those who have not managed to leave are being asked not to drive as it's unsafe and could be more dangerous than waiting out the storm.
The National Weather Service has advised those in the storm to find a reinforced interior room away from windows. "Get under a table or other piece of sturdy furniture. Use mattresses, blankets, or pillows to cover your head and body. Remain in place through the passage of these life-threatening conditions."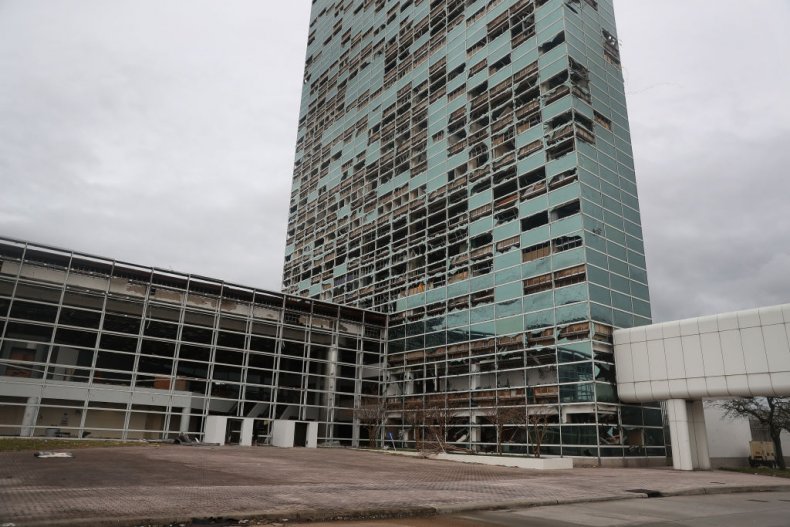 The National Hurricane Center said Hurricane Laura is "extremely dangerous". Wind speeds have been recorded at 133 miles per hour for a gust, plus 85 mph sustained winds in Lake Charles. The area has taken a direct hit from the storm.
Lake Charles is also predicted to be entirely flooded by ocean water, with water set to reach as far as 40 miles inland. Areas of normally dry land could be flooded by 20 feet of water, higher than a two-story building.
"This is why they call it an 'unsurvivable storm surge' and why you should pay attention to the latest updates and evacuate now. It may just save your life," said Greg Postel from The Weather Channel.
"To think that there would be a wall of water over two stories high coming on shore is very difficult for most to conceive, but that is what is going to happen," explained NWS meteorologist Benjamin Schott, reported the BBC. "The word 'unsurvivable' is not one that we like to use, and it's one that I've never used before."
To find out if you need to evacuate your area of Louisiana or Texas, see Newsweek's article on evacuation.