Video: 'Is It Because Omar Is Muslim?' CNN's Chris Cuomo Calls out Donald Trump's 'Bigotry'
CNN host Chris Cuomo believes President Donald Trump has made comments attacking the pro-Israel lobby similar to those of Representative Ilhan Omar.
Trump called for the Minnesota Democrat to resign after she suggested in tweets that U.S. support of Israel is motivated by money. House Speaker Nancy Pelosi and other Democrats joined in the criticism of Omar for perpetuating an anti-Jewish stereotype.
But Cuomo has accused Trump of hypocrisy, saying the president made "very similar" comments to the Republican Jewish Coalition in 2015.
Starting a segment on Cuomo Prime Time, the CNN host asked: "Is bigotry is wrong or not? Is intolerance wrong, or not? If the answer is yes, then call it all out when it comes from elected leaders, call them to account, period."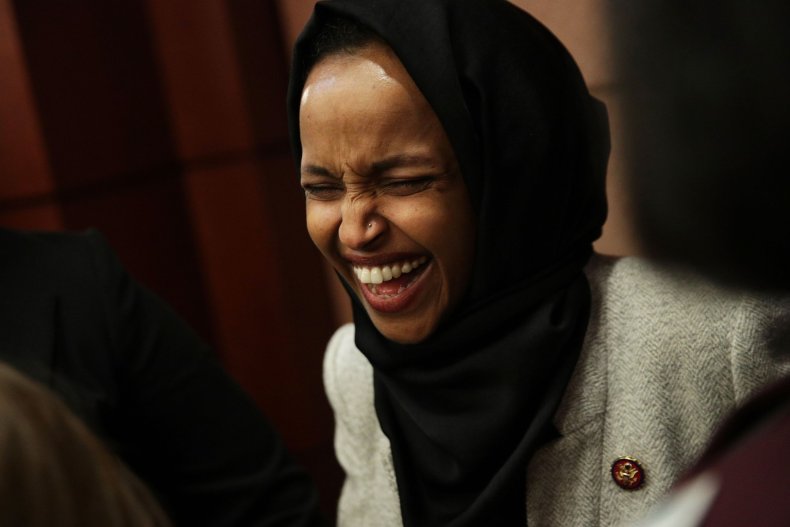 CNN played a clip in which the future president told the Jewish Coalition ahead of his election campaign: "You're not going to support me because I don't want your money. You want to control your own politicians," Mediaite reported.
Cuomo asked: "Why is it different? Is it because Omar is Muslim? And wears a hijab? I hear a lot of that, and it's not right. Especially when you remember that this president has been down the road of intolerance more than most."
The CNN host then noted that Trump has stayed silent about Iowa Representative Steve King and his comments to The New York Times that appeared sympathetic to white supremacists.
"White nationalist, white supremacist, Western civilization—how did that language become offensive?" King said in comments criticized by many Republicans, but not Trump.
Cuomo went on: "For the sake of argument, let's assume that the president now thinks bigotry is not to be tolerated. That's why he moved on Omar. So where was he on Steve King? Not a damn word about years of ugly, exclusionary, divisive talk. His whole party moved on King, all of Congress, and this president said nothing. Why not?"
Cuomo continued: "Only two choices. One: he agrees with King. And there is a case for that. Trump did visit with King early on, he did adopt his pet issue of border security. The second choice: The president saw no upside. The media, the left, they'd come after him no matter what he'd say, so he just stayed quiet."
Cuomo concluded, "So when it comes to Omar, the president's selective outrage is transparent."
Omar tweeted a statement saying: "Anti-Semitism is real, and I am grateful for Jewish allies and colleagues who are educating me on the painful history of anti-Semitic tropes. My intention is never to offend my constituents or Jewish Americans as a whole."