A video of Jenette McCurdy praising Miranda Cosgrove has gone viral with the ex-iCarly actress saying her former co-star "has such a special place in [her] heart."
"Oh my god, I love Miranda to pieces. I always will," the 30-year old said of Cosgrove in an interview with ET while discussing her new memoir, I'm Glad My Mom Died.
McCurdy's frank new book recalls her experiences working at Nickelodeon as a teen and her fraught relationship with her late mother.
The former actress starred on iCarly from 2007 to 2012. While her character Sam Puckett garnered lots of laughs on screen, McCurdy has revealed in her book and in recent interviews that off-screen, she was deeply unhappy during those years.
In her book, McCurdy also shared details of her battle with addiction, eating disorders and unhealthy relationships—issues which she said were only heightened after her mother passed away in 2013.
One positive thing from her time at Nickelodeon is her friendship with Cosgrove, McCurdy has said.
"She has such a special place in my heart. She helped me grow as a person and heal as a person, and I hope I did the same for her. I just love her so much," McCurdy said in the ET interview, which has clocked up more than 2.3 million views on Twitter.
"We totally still talk. Not as much as we used to—we used to be attached at the hip, it was very much that sort of relationship throughout, honestly, our mid 20s. But now, we're all growed up," she added.
McCurdy said that the last time she spoke to her friend was about her upcoming book.
"The last I heard from her, she said she was so excited to read it and sent a very supportive text about reading the book," she said.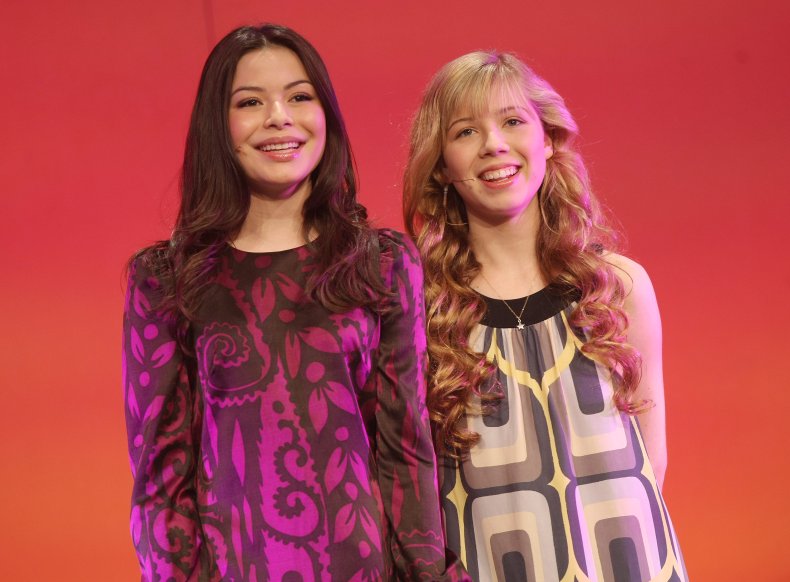 "I can't wait for her to read it. I think she'll really like it. I think she'll laugh a lot—I think she'll relate to... a lot."
Ahead of the release of McCurdy's memoir, Cosgrove spoke to The New York Times and said: "You can't imagine that people around you are having much harder struggles."
She added: "You don't expect things like that from the person in the room who's making everyone laugh."
McCurdy writes about her friendship with Cosgrove in her book and the deep bond that they still share.
"My friendship with Miranda has been a source of camaraderie and emotional support," McCurdy wrote in an excerpt, per ET. "I'm friends with the rest of the cast too, but my connection with Miranda is different and special. We Skype on the weekends and see movies at ArcLight after work."
I'm Glad My Mom Died is out now.