Video of Jennifer Lopez and Ben Affleck Courtside at Lakers Date Goes Viral
The Bennifer phenomenon continues to enthrall legions of pop culture fans and now the It couple are going viral again after enjoying a date at an L.A. Lakers game.
Jennifer Lopez and Ben Affleck sat courtside on Tuesday night at the Staples Center in Los Angeles to see the home team's clash with the Boston Celtics.
Photos from the event have emerged showing the couple—who rekindled their romance this year—enjoying the game and getting cozy.
On Twitter, clips from the NBA game featuring the couple are going viral.
The Boston Celtics are beloved by Affleck and the voiceover from the game in one clip shared by Bleacher Report explains how he rarely misses a game when they're in town.
"Ben Affleck—if the Celtics are in town, and Ben Affleck is not filming a movie, directing a movie, working on a project—odds are he's going to be here," the commentator says.
"We know who he's rooting for, we have no idea who J.Lo is rooting for in this game today."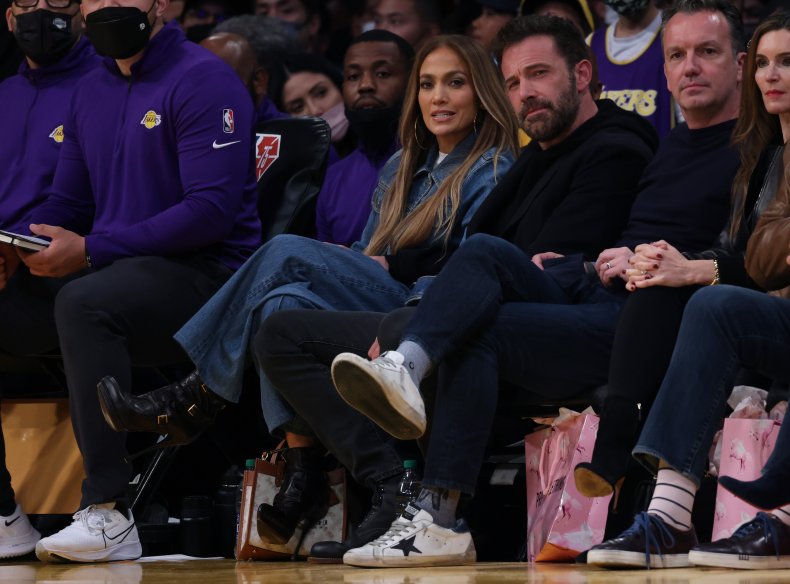 The clip is racking up hundreds of thousands of views on Twitter and has amassed more than 300,000 at the time of publishing.
Another clip, shared by the account Laker Girl, shows Lopez and Affleck sharing a kiss and a laugh while being featured on the arena's big screen.
"It's quite adorable to see @JLo and @BenAffleck so into each other that they could care less about the @Lakers spotlight or the world around them!" the tweet reads.
"Best of wishes for an everlasting love affair!"
The couple was previously engaged to be married in the early 2000s but called it quits right before the wedding, due to intense media intrusion.
In recent months, the one-time Gigli co-stars romance has yet again been subject to intense media attention as their reunion harks back to the early 2000s, proving to be an irresistible love story for the masses.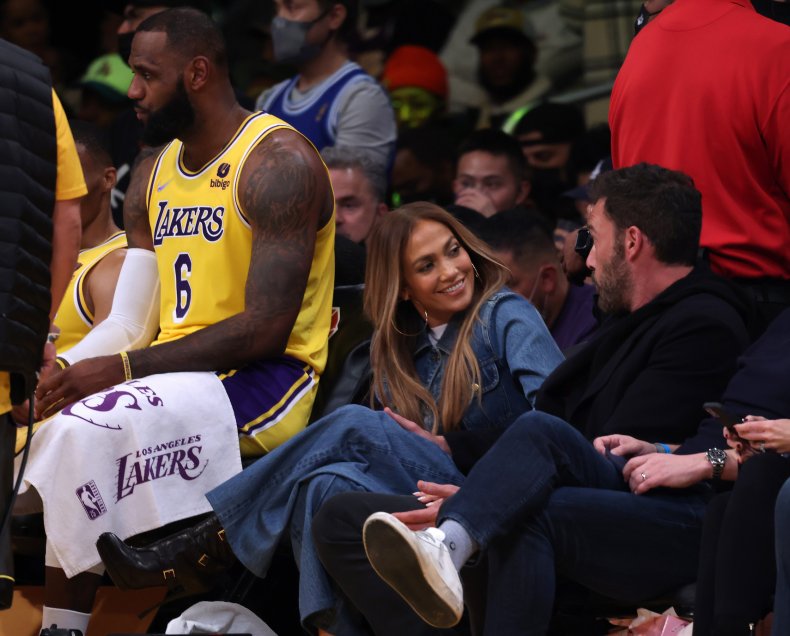 Last week, Affleck opened up about getting back with his former fiancée and said that their love story is "great."
"I can say that it's definitely beautiful to me," Affleck told WSJ Magazine. "And, you know, one of the things I really value across all facets of my life now is that it was handled in a way that reflected that.
"My life now reflects not just the person that I want to be, but the person that I really feel like I am—which is not perfect, but somebody who tries very hard and cares very much about being honest and authentic and accountable. ... It is a good story. It's a great story. And, you know, maybe one day I'll tell it. I'll write it all out. And then I'll light it on fire."