Video of Joe Biden Saying Filibuster Is About 'Compromise and Moderation' Resurfaces
A video of President Joe Biden saying that the filibuster is about compromise and moderation has surfaced across social media amid debates over the future of the legislative rule.
The Senate Republicans Communication Center tweeted the video of Biden in 2005, when he served as a senator from Delaware and a member of the Judiciary Committee.
"At its core, the filibuster is not about stopping a nominee or a bill, it's about compromise and moderation. That's why the founders put unlimited debate in," Biden says in the video. "That's what it's about: engendering compromise and moderation."
The filibuster requires at least 60 senators to vote in favor of ending a debate in order to proceed to another vote. Congress has filed more filibuster cloture motions in the past two decades than in the previous 80 years combined, according to a 2020 report from Brookings Institution.
Newsweek reached out to the White House for comment from Biden but did not receive a response in time for publication.
The video comes as members of Congress spar over the future of the filibuster, with some Democrats calling for it to be abolished while Republicans demand that it remain.
During a speech on the Senate floor last week, Minority Leader Mitch McConnell demanded that Democrats promise to retain the filibuster.
"I cannot imagine the Democratic leader would rather hold up the power-sharing agreement than simply reaffirm that his side won't be breaking this standing rule of the Senate," McConnell said on Thursday. "I appreciate our ongoing good-faith discussions and look forward to finding the solution together."
Democrats have criticized McConnell for his stance.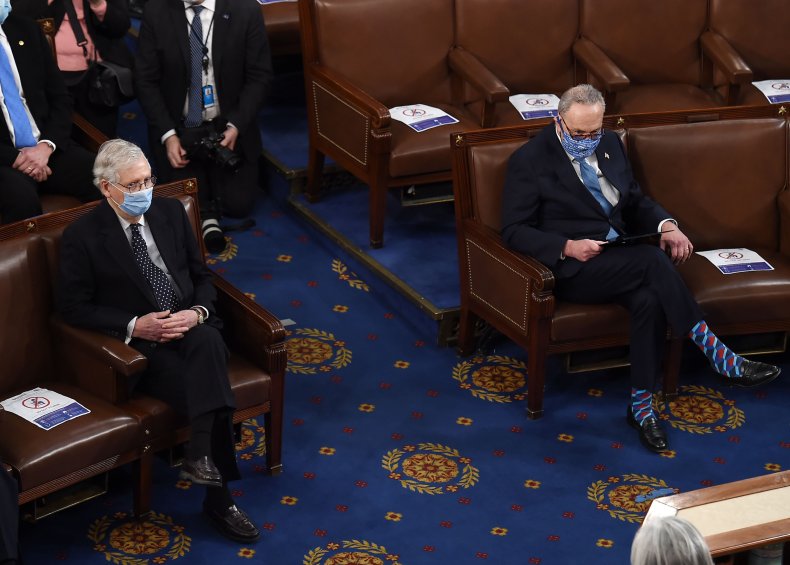 While speaking to NBC News' Meet the Press, Senator Dick Durbin said that McConnell's demand for an agreement to retain the filibuster is a "non-starter."
"If we gave him that, then the filibuster would be on everything, every day," the Illinois Democrat said.
In addition to Durbin, some other progressives are calling for their Democratic colleagues to end the filibuster.
Minnesota Rep. Ilhan Omar tweeted on Thursday, "Abolish the filibuster."
Similarly Massachusetts Senator Ed Markey wrote on Twitter, "We should eliminate the filibuster."
On the other hand, some other Democrats have signaled their support to retaining the filibuster.
While speaking with The New York Times, Montana Senator Jon Tester said that he sees the filibuster as an important aspect in a bipartisan compromise, but noted that his stance could change.
"I feel pretty damn strongly, but I will also tell you this: I am here to get things done," Tester told the Times. "If all that happens is filibuster after filibuster, roadblock after roadblock, then my opinion may change."