Video: Joel Embiid Goes for Windmill Dunk and It Backfires Spectacularly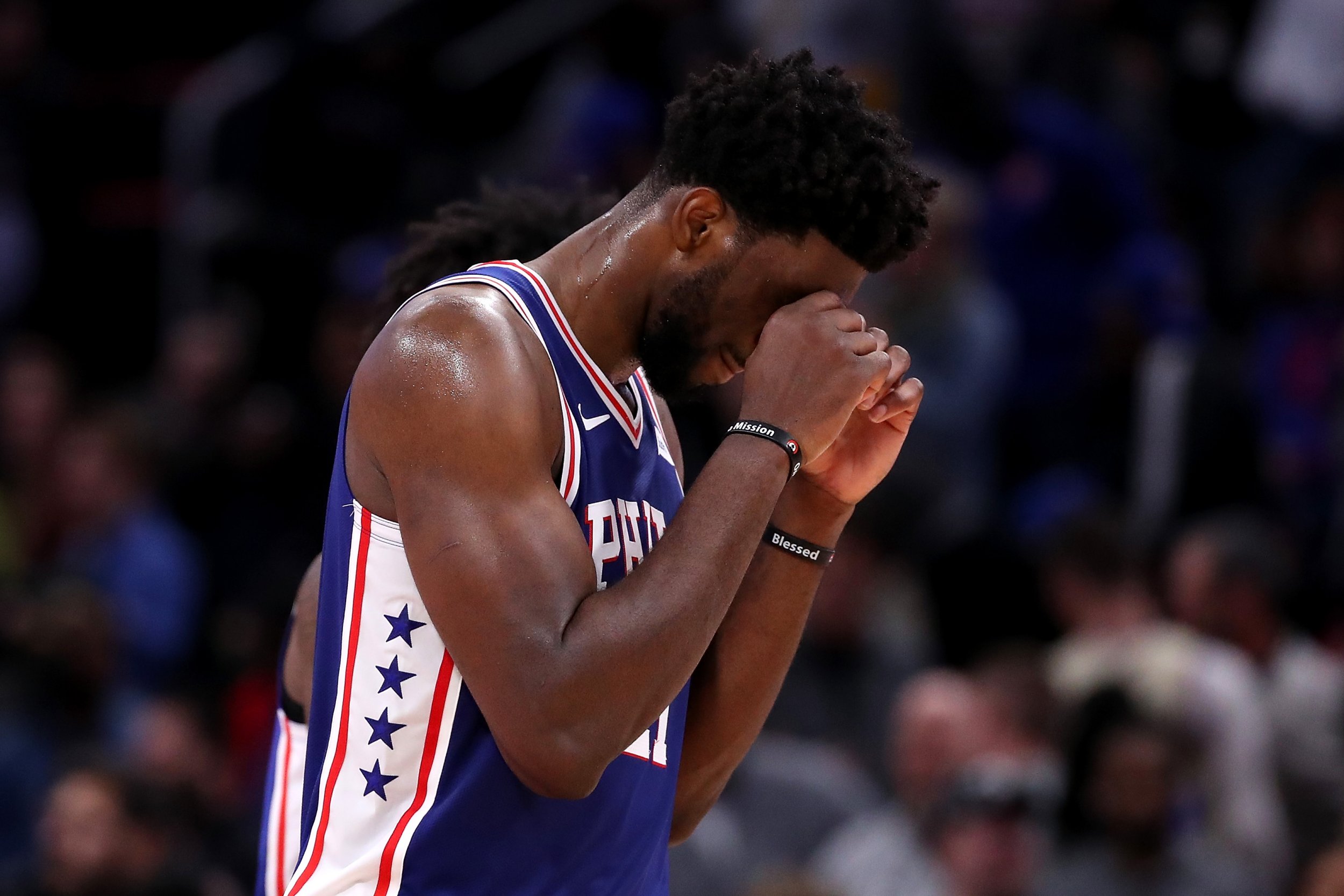 Joel Embiid is not a man short of confidence, and is used to getting things his own way on the court.
On Monday night, however, Embiid came up against an opponent he could not beat. It wasn't one of the Phoenix Suns players, or a particularly tight defense. Instead, it was the rim.
In the second quarter, with the Philadelphia 76ers trailing by nine points, Embiid received a pass in acres of space and, having a clear path to the basket, opted for to wheel out one of basketball's great crowd pleasers: the windmill dunk.
Unfortunately for him, the Cameroonian misjudged the move and the ball clanged off the front rim, before bouncing back past Embiid and into the hands of Suns small forward Trevor Ariza.
Embiid didn't need a verbal reminder of how just embarrassing the miss was but the quizzical look his teammate Ben Simmons gave him immediately after his miss spoke louder than the proverbial thousand words.
Ultimately, however, the Sixers center ended up having the last laugh, scoring 33 points and adding 17 rebounds as Philadelphia won 119-114 on home court against the Suns to clinch a third consecutive win and improve to 12-7.
Embiid's double-double haul on Monday night was his 17th for the season, putting him top of the league's rankings in that particular category. The Cameroonian has reached at least 30 points and 10 rebounds in a game for the 11th time in his career and now averages a career-best 27.9 points and 13.1 rebounds.
"I know that's my job," Embiid was quoted as saying by ESPN. "They need me to dominate."
The matchup against the Suns provided a fascinating showdown between him and Deandre Ayton, the number one overall pick of this year's draft.
When the Suns selected Ayton with the number one pick in the summer, Embiid dismissed comparisons with the former Arizona student.
"Don't compare Ayton to me either. I play DEFENSE," the Sixers star tweeted on draft day.
However, Embiid was much more magnanimous towards the Suns rookie on Monday.
"A lot of people misunderstand me; I talk a lot of trash," he said. "He's talented and has a lot of potential. I'm a big fan."
Ayton had 17 points and nine rebounds in his first ever meeting against the Embiid and admitted the game had provided a much-needed lesson.
"It was fun to finally play against Joel," he explained. "The way he used his body, I'm going to use that, steal that. Thank you for teaching me. He put in a lot of work; I have to put in a lot of work, too."