John Cusack White Sox Confrontation Video Viewed 700K Times
A video of John Cusack being confronted by a Barstool Sports blogger over his support for the White Sox has gone viral—and the actor is being praised for handling himself well in the face of confrontation.
The High Fidelity actor has been involved in a long-running beef with Dave Williams of Barstool Chicago over his allegiance to two of the Windy City's baseball teams—the White Sox and the Chicago Cubs.
An article from Williams from June outlines the podcaster's problem with this.
"Cusack is a pink hat. Always popping in both Wrigley and Sox Park donning the black and white or blue and red. He cheers for BOTH teams," Williams wrote.
"Not allowed. Look, we have two teams in Chicago. You pick one of them to root for and then you hate the other one. That's just how it goes, and it's just that simple. You're not allowed to root for both like John here."
Well, now Williams has had a chance to say his views directly to Cusack's face at the Astros vs. White Sox game on Sunday.
A clip of Williams confronting the actor over his dual baseball allegiance is now going viral after being posted by the Barstool Chicago Twitter account.
The clip has been viewed more than 700,000 times, with John Cusack's name becoming a trending topic on Twitter on Monday.
Cusack asks Williams some facts about the White Sox and when he can't answer, the actor says: "That proves your ignorance."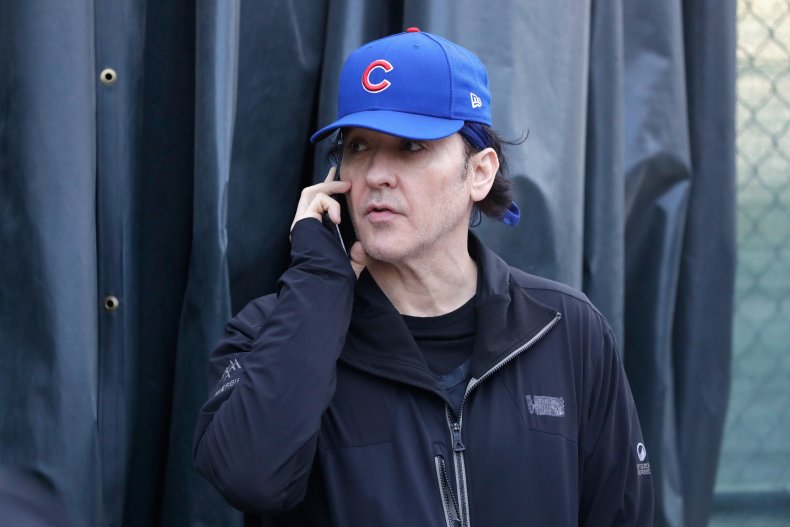 The actor himself addressed the skirmish in a series of tweets responding to fans.
"He's not a Sox fan—he knows nothing about the Sox I asked him. He's a click bait a**hole," he says in one tweet referring to Williams.
He also went on to say: "I wouldn't do that to a child—but the boy needs to learn some manners," and says that Williams' behavior was "not smart or polite."
He also decried Williams for seeking attention by confronting him, tweeting: "Not this lifetime sir ;) sone swine need to be taught or remember some basic manners and an attitude of decency towards others - we are not all viral opportunities anc moments to be used by some idiot."
Many people agree with Cusack and are expressing embarrassment for Williams' behavior.
"Stop this. This is a bad example to kids and not in the spirit of baseball. You don't get to decide who can cheer for who. Stop it. Your bringing a darkness into all of this," tweeted actress Patricia Arquette.
While another fan added: "Why would you post a video of you being obnoxious and then also getting totally owned by John Cusack lol."
Another tweeted: "Can you imagine getting worked this hard by John Cusack and then posting it."