Video of Jussie Smollett's 'I'm Not Suicidal' Outburst After Sentencing Viewed 600k Times
Jussie Smollett screamed "I am not suicidal" to the court after he was sentenced to 150 days in prison for faking a hate crime.
The actor, best known for his role on the TV show Empire was convicted on five of six charges in December of staging a 2019 attack made to look like a racist, homophobic hate crime was committed against him.
The 39-year-old was sentenced to 30 months of felony probation on Thursday afternoon with no travel restrictions, a $120,106 in restitution to the city and a $25,000 fine, along with spending the first 150 days of his sentence in the Cook County Jail.
After the sentencing, Smollett screamed: "I am innocent. I could have said I am guilty a long time ago."
Footage of Smollett's reaction to his prison sentence is going viral on social media this morning.
One clip, shared by Philip Lewis of Huff Post, has already amassed more than 600,000 views at the time of publishing.
Smollett can be seen addressing the judge after the sentence was announced, telling him that he was innocent.
"If anything happens to me when I go in there I did not do it to myself," Smollett said as he was led from court.
Cook County Judge James Linn told Smollett: "Your very name has become the adverb of lying" and added that Smollett caused "real damage to victims of hate crimes" and said the jury's verdict was "accurate and correct."
"You're just a charlatan pretending to be a victim of a hate crime, and that's shameful," the judge said.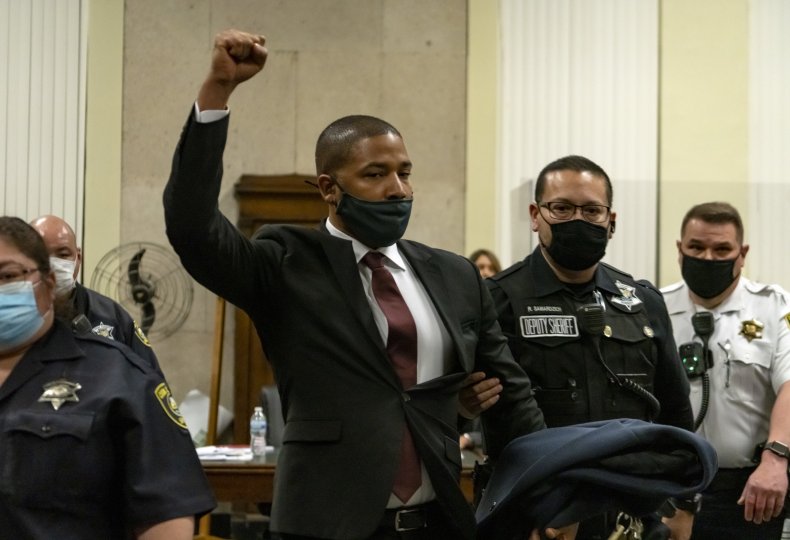 Prosecutors allege that the actor, who is black and gay, lied to police when he told them that he was attacked by two masked men in Chicago back in January 2019.
He was convicted on five disorderly conduct charges for lying to police and filing false reports about the attack, and was found not guilty on one of the disorderly conduct counts for claiming to be the victim of aggravated battery.
Smollett told officers that the two masked men shouted racist and homophobic slurs at him while hitting him, pouring bleach on him and placing a rope around his neck tied in the shape of a noose and expressing support for then president Donald Trump.
His attorneys said they planned to appeal the sentence and requested a stay of the sentence and prison time while the appeal is pending, which Judge Linn rejected.