Video: KFC Advert Makes Mockery of Neymar Diving Antics
Brazil might have strolled through their World Cup campaign so far but Neymar's antics have left a sour taste in the mouths of many viewers.
The Paris Saint-Germain forward has been widely criticized for his tendency to make the most of any contact and going to the ground way too easily, while his exaggerated rolls around the ground have been mercilessly mocked on social media.
KFC have seized on the frenzy and a video advertisement - which was released on June 15 - which seemingly mocks the Brazilian has now gone viral.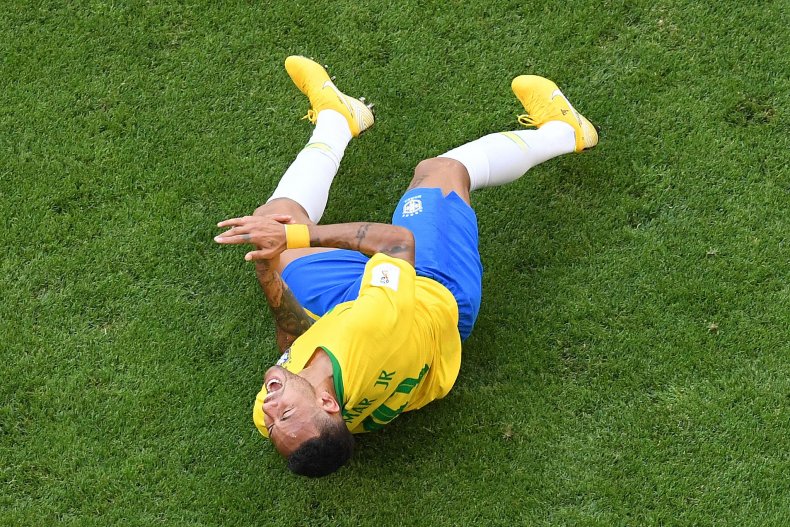 In the video, a soccer player goes down after a tackle and begins rolling around on the ground in agony, much as Neymar did in Brazil's opening World Cup match against Switzerland.
The player then comically rolls down the tunnel, past confused teammates and stretcher bearers, and makes his way out of the stadium.
The rolls take him past a skateboarder, who has to jump to avoid him, through a pitch when young kids are playing soccer and into a city, past bemused passers-by.
Comically, the man rolls past people who are watching him rolling around on TV, before crossing the road and eventually arriving at a KFC shop.
Here, he unsurprisingly leaps to his feet just in time to place his order.
The ad's tag line is "Make a meal of it"—and the Brazilian has certainly been do so throughout the World Cup.
Neymar, however, has claimed defenders reserve a particularly harsh treatment for him, in an effort to limit his impact on the pitch.
"I think it's more an attempt to undermine me than anything else," he was quoted as saying by ESPN. "I don't much care for criticism, not even for praise, because this can influence in a way the athlete's attitude."
On Monday, the 26-year-old opened the scoring as Brazil beat Mexico in the round of 16, but was again involved in controversy after rolling around on the touchline after El Tri defender Miguel Layun appeared to stand on his ankle.
Mexico coach Juan Carlos Osorio criticized Neymar's antics, suggesting it was "not a good example" for football.
"This is a game of men that is played with intensity and not with so much clowning," Osorio was quoted as saying by BBC Sport.
"It is a shame for all the people watching, all the children watching. There shouldn't be acting. I think this had an impact on our pace and style. The game totally favoured Brazil. Too many interventions from the referee."