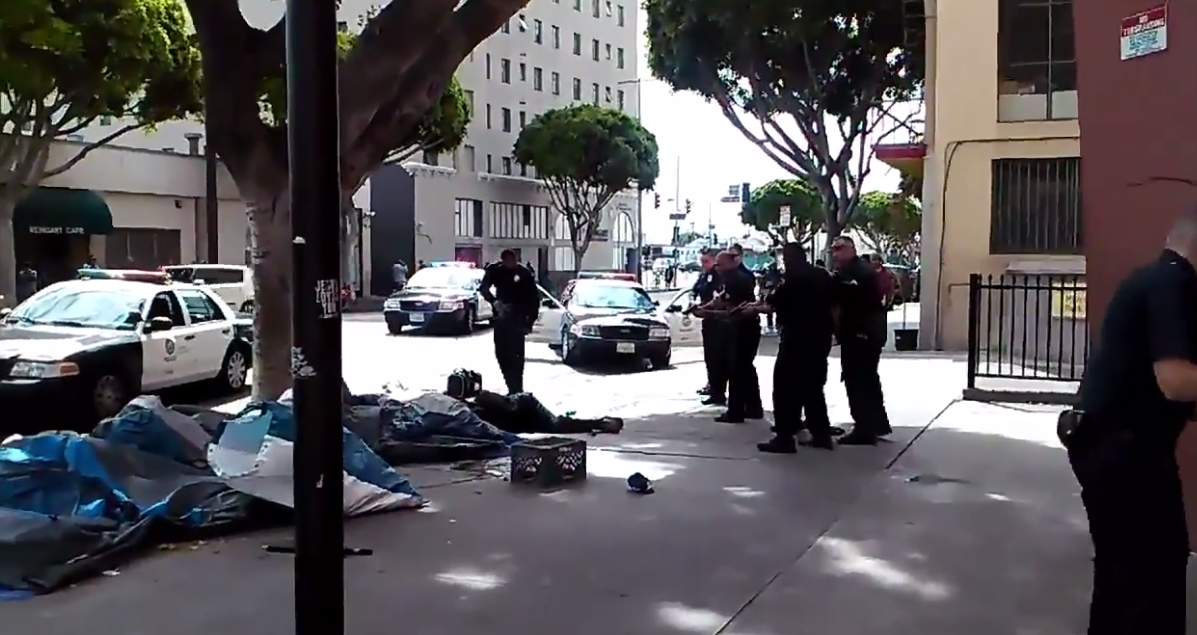 (Reuters) - Police in Los Angeles fatally shot a homeless man in the city's so-called Skid Row district after trying to subdue him with a Taser gun during a struggle that was caught on video, the police department said on Monday.
The man was a suspect in a robbery on Sunday and the officers were trying to take him into custody when he began fighting them, the Los Angeles Police Department said in a statement.
It said the man continued to resist, despite the officers attempting to use a Taser on him, and they fell to the sidewalk.
"While on the ground, the suspect and officers struggled over one of the officer's handguns and then an officer-involved shooting occurred," the department said.
Paramedics pronounced the suspect dead at the scene, it added, while two of the officers suffered minor injuries and were treated and released.
A video recorded by an onlooker and posted online appears to show a group of police officers scuffling with a man in an area of downtown Los Angeles where homeless people pitch tents at night.
They fall to the ground and the fight continues. Someone is heard shouting "Drop the gun!" and then several shots are fired.
A series of civilian deaths at the hands of police in recent months has become a touchstone for troubled race relations in the United States, most notably in Ferguson, Missouri, when an 18-year-old unarmed black man was shot and killed by a white police officer, triggering weeks of protests and some rioting. A grand jury cleared the officer of wrongdoing.
The LAPD said that, as in all officer-involved shootings, its investigators will preserve and collect evidence and interview witnesses, and will analyze parts of the incident captured on video from various sources.
It said the investigation will be conducted in coordination with the LAPD's Office of Inspector General and will be presented to the Board of Police Commissioners to determine if the use of deadly force was consistent with policies and procedures.
The Los Angeles County District Attorney's office also will conduct a comprehensive review, the police department said.
LAPD Police Commission President Steve Soboroff told the Los Angeles Times that when he saw the video of Sunday's shooting: "My heart just started pounding ... These situations are just so horrific."